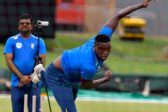 Lutho Sipamla is obviously not a young man with a habit of complicating things.
He was not an attacking batsman, who later became a frontline seam.
He didn't have to agonize over whether to choose a sports code over another.
And he's not trying to blow up the opposition batsmen with a burst of pace before he gets his other skills.
It's about simplicity when it comes to Protea's latest rookie-bowling revelation.
"I've always been a bowler," said the 20-year-old Tuesday before Wednesday's third and final T20 against Pakistan in Centurion.
"I knew it the day I took the ball in my hand for the first time. It's really something that just came naturally to me."
That day came when Sipamla was eight.
"My father took me to a coaching clinic in Port Elizabeth. I loved it right from the start," he said.
"I played my first competitive game in grade three playing for the A team. Yes, I just took the sport very well. I played rugby, but after a high school, I concentrated more on cricket and I started to drift into rugby B teams. "
Selection for the national under 19 team was inevitable when he invested most of his energy in his bowling, but Sipamla's rise has been quite rapid since being drafted by Tshwane Spartans for this season's Mzansi Super League.
He finished the third highest wicket-taker with 16 victims.
But that achievement was not what made him most happy.
"I have had a lot of experience playing with AB," said Sipamla from his Spartan skipper.
"Sharing the changing room, training and playing with him was life-changing for me because he kept me calm.
"His presence calms you because he speaks to you and gives you plans. I learned a lot from that experience because at times he allowed me to set the field myself what I wanted to help my bowling."
Sipamla's stand-in national skipper on the weekend at Wanderers, David Miller, employed a similar strategy with the debutant bowler within his ranks.
"When David introduced me, he gave me suggestions for field placements and how to scold because he saw we were in trouble and not bowling the right lines," he said.
"He asked me to bowl straight and try to control the running course and I played the role of checking instead of taking wickets."
It worked a treat when the Warriors prospect admitted only 23 rounds out of his four overs, who played a major role in South Africa's serial competition.
He wants a wicket or two on Wednesday … but fretting over it will betray his perspectives on the game – simplicity.
"I want to take a wicket every time I bowl, but they come by doing the right things over and over again.
"It's a process that comes with time, but I'm looking forward to the moment to take the first wicket."
For more sports your way, download Citizens app for iOS and Android.