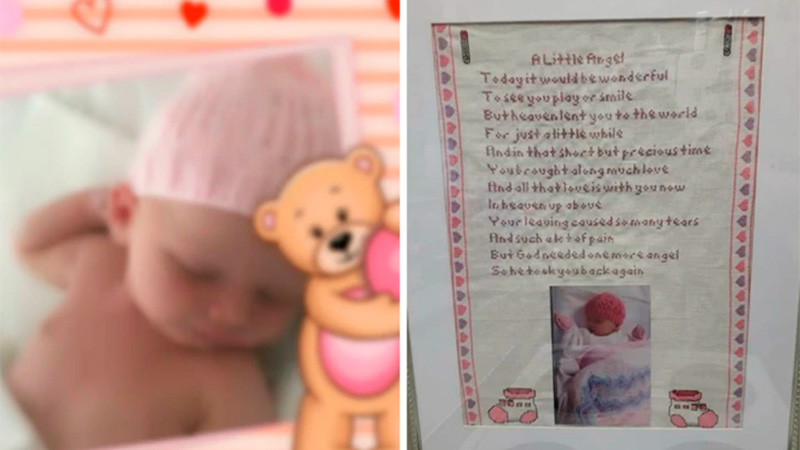 "Never in my worst nightmare, I imagined a kiss could kill my baby, and I do not want other parents to go through this," said Brit Kelly Ineson about her young daughter, Kiara Cummin's death, due to herpes neonatal.
The happiness that led to the arrival of Kiara to the Cummins family, at the end of July last year disappeared only a few days later when the little girl's health deteriorated until she died.
According to Daily Mail, Kiara was only ten days old when Kelly and her fiancée Thomas Cummins took her to the hospital because her weight had fallen dramatically.
It was the beginning of the tragedy of this British family, residing in Dewsbury.
The doctors who treated the child could not diagnose an infection for a few days. At that point, the girls' kidneys stopped working, then a sepsis occurred and she had to be induced to coma.
Kiara's family only understood how their condition deteriorated drastically day by day. When the child's mother saw a group of doctors around her and connected her with machines, she knew that the child would not survive.
Finally, the diagnosis of neonatal herpes arrived, but at that moment, Kiara told parents that there was nothing left to do and the little one died.
Although the little girl was put in a coma, even though she had survived, she would have had serious brain injury.
Ineson and her fiancé had to decide to interrupt their daughter from the units that kept her alive.
In the United Kingdom, neonatal herpes affects 1.65 babies per One hundred thousand births. It is caused by the simple herpes virus, which is highly contagious and causes wounds and sores in adults.
In infants, the virus is fatal because their immune system is not fully developed.
After Kiara's death, doctors told their family that the child probably contracted the virus through a kiss.
Therefore, Ineson encourages all parents to take care of their babies with respect for the people who kiss them.
"We were always very careful not to leave someone who looked bad or had not washed their hands near her," said Ineson.
Many people do not even know they have the virus because only one in three people have symptoms.
Kiara mom is desperate and tries to find explanations of what happened. Remember the day Kiara died as the worst of his life.
var magnificPopup = $.magnificPopup.instance;
(function(d, s, id, twid) {
var js, fjs = d.getElementsByTagName(s)[0];
// fb + common if (!d.getElementById(id)) { js = d.createElement(s); js.id = id; js.src = "http://connect.facebook.net/es_LA/sdk.js#xfbml=1&version=v2.0&appId=696163903740665"; fjs.parentNode.insertBefore(js, fjs); }
// +1 js = d.createElement(s); js.src = 'https://apis.google.com/js/plusone.js'; fjs.parentNode.insertBefore(js, fjs);
// tweet if (!d.getElementById(twid)) { js = d.createElement(s); js.id = twid; js.src = '//platform.twitter.com/widgets.js'; fjs.parentNode.insertBefore(js, fjs); }
}(document, 'script', 'facebook-jssdk','twitter-wjs'));