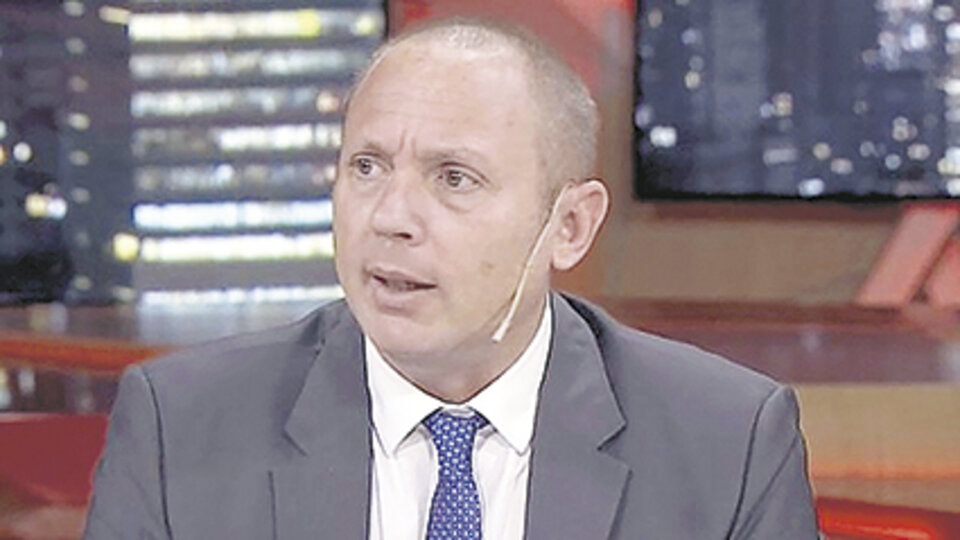 The original complaint to the false attorney Marcelo D & # 39; Alessio's extortion against businessman Pedro Etchebest on behalf of the prosecutor Carlos Stornelli for not involving him in the cause of the photocopies of the notebooks created countless legal, political and even medical consequences. The case put on the table with more evidence than ever submundo mafioso, where local and international services are mixed with prosecutors, judges, operators disguised as journalists and other characters of the worst kind. To order the scattered information produced since the complaint was announced, PáginaI12 presents a chronology with the main facts and derivations:
Friday, February 8th, Page / 12 reported in detail that Marcelo D & # 39; Alessio, agent of DEA and nephew of general government, had extorted businessman Pedro Etchebest on behalf of the federal prosecutor Carlos Stornelli for not arresting him in connection with photocopies of the notebooks . Having accumulated sound, movies, pictures and screenshots, the businessman had condemned him on January 28 in Dolores, where he witnessed a meeting between a spy and a prosecutor. One day after the first raid on D & # 39; Alessio and hours before publication, Deputy Elisa Carrió announced that "Ramos Padilla, who reacts to La Campora, would make an operation for the dirty prosecutor Stornelli."
Monday, February 11 Carrió seemed to propose for justice that the termination was a confiscation of prisoners bound to the church system to accuse Stornelli. As proof, he provided wiretaps as he said he had received in an anonymous envelope. They were recordings in the case of "King of Ephedrine" Mario Segovia, who besides revealing any operation should have been destroyed because they had no relation to the subject of this study. That day, security minister Patricia Bullrich refused to allow Alessio to work for her. The Spy had said that the Ministry paid him to defend the funding of Leonardo Fariña. "I've seen it once, I think it's someone who has some sort of problem," Bullrich said.
Tuesday, February 12 Five days late sentenced Stornelli D & # 39; Alessio for fraud. Far from his first reaction when he said that everything was "a political operation" and that he had seen D & # 39; Alessio twice, he admitted that he was a habituate at his prosecutor's office involved in various crimes. As in passing, he said the blackmail was paid in Puerto Madero, the transition to the cause of Ramos Padilla. Shortly after, the film was raffled and fell to Julian Ercolini, a friend of government and Stornelli. The doctor was executed by D & # 39; Alessio's lawyer, Claudio Fogar, when he asked Ercolini to intervene. The same day, lawyer Jose Manuel Ubeira asked to separate Stornelli from the cause of photocopies. After rejecting it from chats received by Etchebest, D & # 39; Alessio had agreed with the prosecutor to make a hidden camera. The goal was to introduce that it was part of an extortion maneuver against the prosecutor. Ubeira represents Oscar Thomas, former director of Yacyretá, who did not agree to be "reverse" in the photocopies.
Wednesday, February 13th By order from Ramos Padilla and his couple Lomas de Zamora, Federico Villena (in the case of money laundering), D & A's Alessio's mansion is paved in the land of Saint Thomas. They find themselves in a great fortune (ten luxury cars, a yacht), with the latest generation weapons, DEA driving plates and abundant evidence of the intelligence activities they developed. At dawn on Thursday, D & # 39; Alessio appears in a criminal court to present a habeas corpus. There he states that Etchebest silver inquiry was within the scope of a study conducted by two Federal Intelligence Agency (AFI) organic agents, former Commissioners Ricardo Bogoliuk and Aníbal Degastaldi. The accused puts himself in the center of the stage for Executive Power, which depends on AFI, who heads President Gustavo Arriba's friend.
Friday, February 15th A son of Ricardo Barreiro, former secretary of former President Cristina Kirchner, who was detained in the photocopy case, condemned Ramos Padilla that D & # 39; Alessio was trying to deprive him of liberating his father and not arresting his brother. The same fact had known his father to Stornelli when he testified to his office on October 8.
Monday, February 18th Ramos Padilla examines D & # 39; Alessio, who is already detained, who refuses to be "treasurer" of Stornelli and suggests that he be deceived by the government through AFI, especially Bogoliuk. He urges the judge to allow him to return home, even with an electronic ankle.
Same day The judge asks Judge Ercolini for a copy of the case he instructs, and Stornelli exchanges WhatsApp with D & # 39; Alessio to confront him with those brought by etch best. The prosecutor refuses to send them while the maneuver removes the cause of Ramos Padilla's progress. Ercolini, without seeing a single side of the case for extortion, asks him to send the file to his court in Comodoro Py. The question of his competence forces Dolore's judge to lift the secret of the summary to request an opinion from all parties.
Monday, February 25th Ramos Padilla accuses D & # 39; Alessio as a member of an unlawful association dedicated to performing "ablandes, shelves, intelligence operations and panic" in the people later extorted, so "they would be converted or give money." That night, he asks for the arrest of the two former Commissioners.
Same day, deputies Leopoldo Moreau and Rodolfo Tailhade and Senator Marcelo Fuentes ask the head of the bicameral commission for the supervision of the intelligence services, the radical Juan Carlos Marino, quoting Ramos Padilla to respond to "the activity of intelligence officers organic or inorganic – performing illegal operations related to the activities of the drug society and the prosecution ", which he mentioned in the prosecution.
Wednesday, February 27 Former Commissioners refuse to testify to Ramos Padilla. D & # 39; Alessio does the same before Judge Luis Rodríguez, who dusted a report by the end of 2016 for the blackmail of a merchant named Gabriel Traficante, who tried to get him $ 90,000 to presumably relieve his situation in the Economic Criminal Court.
Thursday, February 28. Ramos Padilla quotes Stornelli as question mark on 7 March. "The various investigations and espionage that the prosecutor demanded of D & # 39; Alessio, whom he considered an intelligence service in the United States and to whom he asked for" merca "(information), requested" parallel investigations "or" unofficial investigations "and even espionage operations to damage lawyers who bothered him. As already mentioned, Alessio was not a simple extortionist or judicial operator who would have turned to a careless accusation but a person who introduced himself as an agent for DEA and sat down to the prosecutor's service to carry out investigation and espionage tasks, "highlights. If the investigation is organized, Eduardo Casal will open a disciplinary file against Stornelli. On the same day, the prosecutor of Dolores, Juan Pablo Curi, Ramos Padilla, surprisingly, rejected his jurisdiction and sent the case to the Ercolini court.
Friday March 1st. Ramos Padilla sends a report to the Bicameral Commission for Notice of Congress and offers to attend personally. It also sends a box of evidence and 943 pages of prints and photocopies that are not received by the congress.
Source link