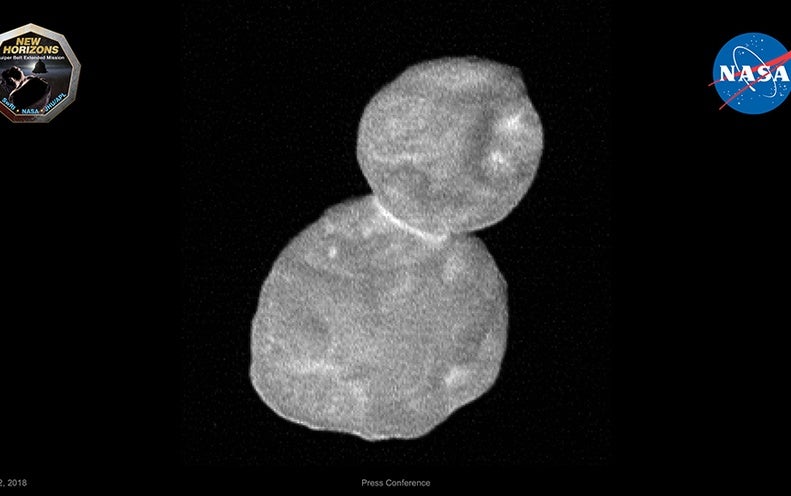 When New Horizon's mission approached Ultima Thule, Rowan University paleontologist Kenneth Lacovara put our close-up of the Kuiper Belt object into a deep-sea perspective.
Welcome to Scientific American's Science Talk, released January 3, 2019. Happy New Year! I'm Steve Mirsky.
Ultima Thule. It's the little snowman-shaped Kuiper Belt object that New Horizon's mission flew by on January 1st. We receive information about Ultima Thule from the spacecraft for the next 20 months or so. And there is plenty of coverage on the mission and object on our site and across the internet.
So for this short edition of Science Talk I will focus on the in-depth aspect of Ultima Thule … and us. On New Year's Eve, Johns Hopkins University Applied Physics Laboratory hosted a few short talks on the latest stop for New Horizon's mission. The speakers were all rumors. With the exception of Kenneth Lacovara. Who is a Paleontologist based at Rowan University in New Jersey. Lacovara has found the remains of the largest known dinosaurs. Including Dreadnoughtus, weighing in at about 65 tons. Its femur is as high as an NBA shooting guard.
Lacovara gave a short speech to Webcast New Years Eve, which puts the study of Ultima Thule in a somewhat different context than we might normally think of space missions. I happened to see live and I grabbed the sound to share with you. Enjoy!
LACOVARA SEGMENT
Thanks to John Hopkins Applied Physics Lab and Ken Lacovara for green lighting my use of their sound. We'll be back in a few days with a more traditional episode of Science Talk. Until then, check out www.scientificamerican.com for our continued coverage of New Horizon's mission and for all your science news.
And follow us on Twitter, where you get a tweet when a new topic hits the site. Our twitter name is @sciam. To Scientific AmericanIt's Science Talk, I'm Steve Mirsky, thank you for clicking on us.
Source link