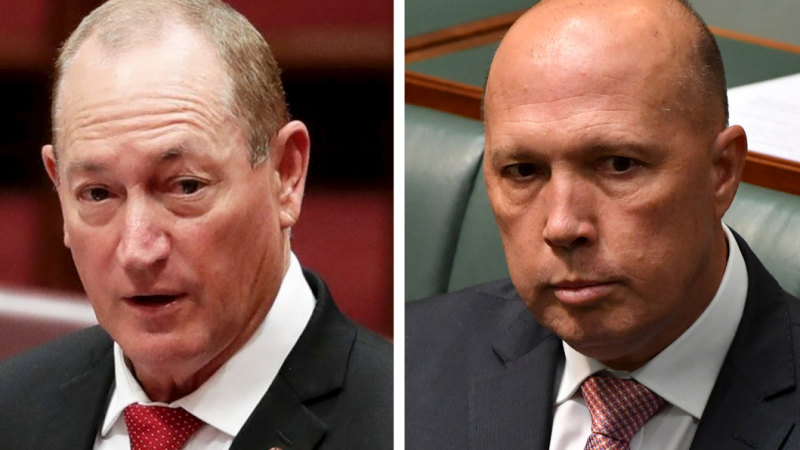 "It's politicians like Peter Dutton who actually helped create an atmosphere where hatred is allowed to incubate in our society," Senator Faruqi told ABC radio on Monday morning.
"They can't take their responsibility away. What they've done comes with a price, it comes with consequences, because they've really played games with our lives."
In response, Mr Dutton said Senator Faruqi and Senator Di Natale were "extremely left" and resembled their statements with those of Senator Anning who owed the mass shooting of "Muslim immigration".
"I will hardly take moral lectures from the far left that are honestly as bad in this situation as people like Fraser Anning, they should also be condemned," he said.
Loading
"We have people far to the left or far to the right trying to gain political advantage. I think it's a disgrace."
Sir. Dutton also said that right-wing extremists had been on their radar since he took the position of Minister of the Interior. He denied the government and its agencies were preoccupied with Islamist terrorism and had missed accused Australian truce Brenton Tarrant or other people of his ilk.
"Our focus is on people who will try to hurt us wherever they are in the spectrum," Dutton told ABC Radio National.
He said Tarrant had spent only 45 days in Australia over the past three years, and there was a limit to the amount of online material security agencies being able to monitor their resources.
As Tarrant's history is under consideration, attention has also turned to political factors in play in Australia that have raised and promoted right extremism.
Senator Anning – who entered Parliament on the One Nation ticket after disqualifying Malcolm Roberts – has been widely condemned for his remarks and faces censorship of the Senate when Parliament returns next month.
Senator Hanson said, however, that she would abstain from voting on the joint censorship movement of the Coalition and Labor because "it will not turn out to be a curse".
"He [Senator Anning] is a elected member of parliament, "she told Channel 7s Sunrise program on Monday. "He has a voice."
Michael Koziol is a political correspondent for The Sydney Morning Herald and The Age.
Source link