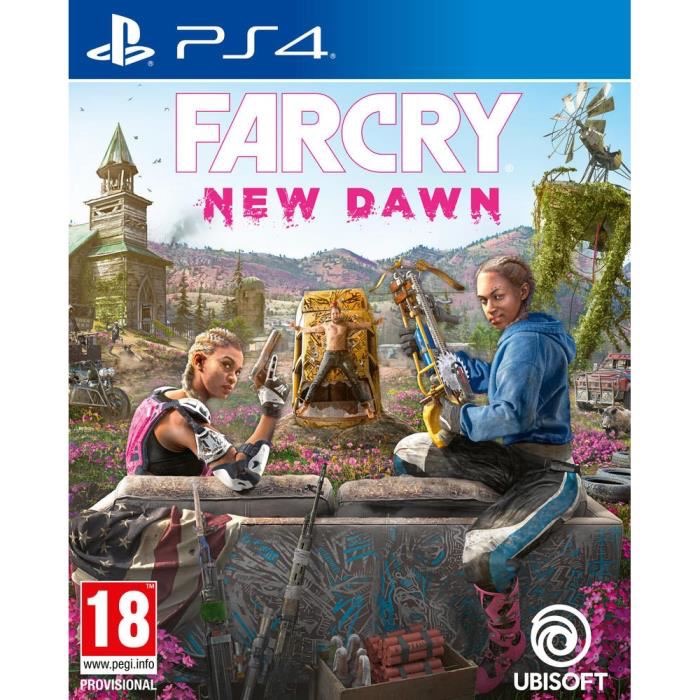 Ubisoft released in the beginning of the year the sixth episode of Far Cry titled "New Dawn". This is to tell you my first experience in the Far Cry universe, enough to approach the game without prior notice!
Far Cry was landed by an apocalypse who left few survivors. People were supposed to survive underground before they emerged in a world where nature has taken over. The environment is very colorful, certainly inspired by radiation-modified vegetation, as is the case with Chernobyl.
The story of the new episode is 17 years after Far Cry 5, and in the same area of ​​Hope County. Communities are trying to survive the "pests" led by two twins who have a taste for rapid killing and looting.
This FPS originally leaves the character between a man and a woman you play as captain of Thomas Rush. This leader helps communities consolidate and combat pests. We are therefore in a context of survival and struggle between good and evil, which can also make us think of the Walking Dead series.
In the first order, the action starts immediately after the cut of Thomas Rush's train and the pest attack. The open world is based on Far Cry 5, but with a revised universe. Main quest, side missions, take control of the outposts, there is something to watch out for. A captured outpost can be preserved or abandoned, which will allow you to recreate a catch that is made even more difficult. Each catch makes it possible to loot resources and thus restore many things, including ethanol.
The hostile world, in spite of the colorful world, is not the only pest, but also the game of excitement. Hunting is one of the possible activities, but be careful not to waste precious ammunition against an animal while you might need it for the mission that follows.
In order to take advantage of improved weapons, it will be necessary to upgrade the base, prosperity. Bringing back specialists creates evolution in the installations: nurse, explosives laboratory, garage ….
In Far Cry New Dawn, the resources are very important because it is not possible to supply the armor on the corner. It will be necessary to accumulate many items to rebuild weapons. We start with a saw driver, but more conventional firearms are also available on the bodies of enemies.
The RPG Light Life approach to adding role-playing features with new color codes over the enemies' life tester. Weapons and enemies have a level from 1 to 4.
At the level of the game we like dialogues with good replicas for some characters. Mercenaries will also accompany us in solo fashion, which is a real plus. They have different abilities which in turn will improve their resistance and efficiency.
Vehicles in father Cry New Dawn
One can quickly take the wheel or steered by vehicles found on the ground. Sidecar, tractor, truck, quad, jet ski: the range of vehicles is noticeable.
There is a helicopter at the bottom, but it requires having enough ethanol to be able to leave. This helicopter provides access to expeditions to other areas further afield and inaccessible on foot or by car. Shipments are designed to pick up parcels and can be done alone or in co-op. These sites are varied and can be repeated several times.
Of course, the best cars will be the ones that we will directly collect and adapt in the garage. If you like Mad Max dead gear, you should find your happiness. The interest is to equip them with weapons as a machine gun tag.
Muscle Car, Buggy Coupe, Pickup: All car silhouettes are available. Speed, strength and maneuverability can help you choose your preferred gear. Nothing like a reinforced roadway with bullet and machine guns to calm down in Far Cry New Dawn!
Our opinion on Far Cry New Dawn on PS4
Proposed from the launch at a competitive price (under € 50), Far Cry New Daw is a game whose life is much shorter than the last Assassin's Creed. This has caused a lot of criticism, especially because of a smaller card than Far Cry 5.
But on the other hand, we don't necessarily have time to play 80 hours or more for every title that interests us. The game is successful, remains to know if you like or not a very nice FPS with pink everywhere!
This new Far Cry is nothing unpleasant, and if it is not this year's game, it will ultimately provide value for money, which is quite interesting for a novelty in 2019.
Source link