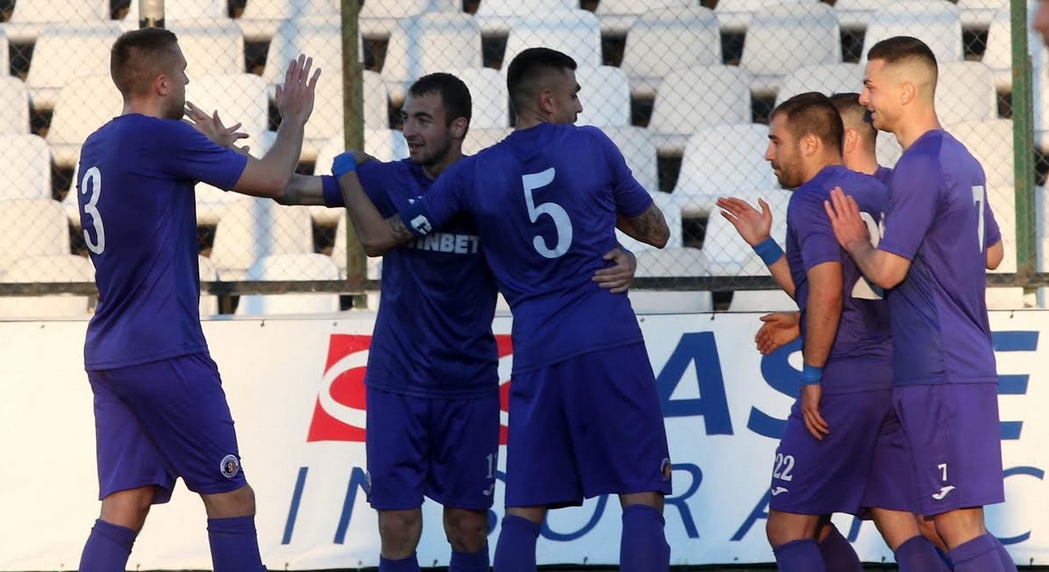 The regular season in the first league is over. In the last match before the split of the championship in the first sixth and second eighths, Eter beat 1-0 Slavia at the stadium in the Ovcha Kupel district of Sofia. The only goal in the match was Daniel Mladenov, who took advantage of the error from the home keeper Antonis Stergiakis in the middle of the first part.
@@@
The meeting was historic to the "white", which for the first time turned on the home of the team by the lighting that was installed in the spring. In this case, management issued tickets to a live which attracted quite a few fans of the team and standing by sector "A" was largely filled.
@@@
The first dangerous situation was with the guests. In the ninth minute Slavcho Chokolarov kicked hard, but Hristo Ivanov saved his shot. There were similar minutes, but in the 35 guests were waiting to find the result. Antonis Stergiakis didn't let the weather get him down and made some great moves on the pitch in the middle. Velko Batrovic of Daniel Mladenov was booked for kicking the ball away after the whistle.
At the end of the first part, the "boyars" guards saved a very dangerous blow from a direct free kick by Dimitar Velkovski.
After the break, the hosts were significantly more active on the track, but rarely reached clean positions at Ivanov's door. When it hit, the guard was on the level and showed safety under the door frame.
@@@
So Slavia ends in ninth place in the final position of the regular season. The "White" has 33 points and in the second eight will play with the teams Lokomotiv (Plovdiv), Septemvri and the Danube. Etar is in seventh position with 40 points and will play against Botev (Vratsa), Vitosha and Vereya in the fight for Europe.
First Professional League, 26 round:
SLAVIA – ONE 0: 1
0: 1 Mladenov (35)

ingredients:
reputation: Stergiakis, Petrov, Marem, Humanez, Velkovski, Shokolarov, Krastev, Karabeliev, Kirilov, Ashkovski, Chunchuukov
ONE YEAR: Ivanov, Iliev, Artunin, Galabov, Georgiev, Kolev, Mane, Mladenov, Batrovich, Bojajj, Angelov
Stadium: Slavia, Sofia
judging: Valentin Zhelezov
PHOTO GALLERY
STANDINGS
MINUTE MINUTES
STATISTICS FROM THE MATCH
// FB.init({appId: '176964795710805', status: true, cookie: true, xfbml : true}); window.fbAsyncInit = function() { FB.init({ appId : '176964795710805', oauth : true, cookie : true, status : true, xfbml : true }); }; function fb_login(){ FB.login(function(response) {
if (response.authResponse) {
var token=response.authResponse.accessToken var t=document.getElementById('fbaccess_token'); t.value=response.authResponse.accessToken; var f=document.getElementById('fbform'); f.submit(); return; } else { } }, { scope: 'email' }); };
// };
// Load the SDK asynchronously /* (function(d){ var js, id = 'facebook-jssdk', ref = d.getElementsByTagName('script')[0]; if (d.getElementById(id)) {return;} js = d.createElement('script'); js.id = id; js.async = true; js.src = "http://connect.facebook.net/bg_BG/all.js"; ref.parentNode.insertBefore(js, ref); }(document)); */
(function(d, s, id) { var js, fjs = d.getElementsByTagName(s)[0]; if (d.getElementById(id)) return; js = d.createElement(s); js.id = id; js.src = "//connect.facebook.net/en_GB/sdk.js#xfbml=1&version=v2.6&appId=176964795710805"; fjs.parentNode.insertBefore(js, fjs); }(document, 'script', 'facebook-jssdk'));
function switch_theme_cookies() { var val = "; " + document.cookie; var parts = val.split("theme="); var themecookie=''; if (parts.length == 2) { themecookie=parts.pop().split(";").shift(); } themecookie=1-themecookie; document.cookie='theme='+themecookie+';expires=Thu, 01 Jan 2020 00:00:01 GMT;path=/'; location.reload(true); return ; }