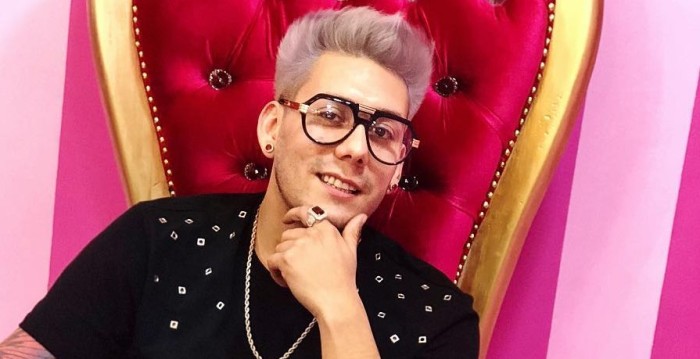 Maickol González, better known as "Dash the naughty", wanted to start as a singer and in social networks he shared a progress of the video of the subject Alfons.
In the song, artists like Ougi and Big Angelo participated and next to the post he wrote: The street is lit on fire.
Unfortunately, the singer received bad news, as the YouTube platform decided to remove it from the platform in just a few hours to violate its sexual content or nudity policy.
Some of his followers told him that they could not see the video because they unfortunately downloaded it. Then Dash decided in his Instagram account to refer to the subject and even launched strong accusations.
"I ask all your positive energy and I appreciate the concern of all those who have written to us. Unfortunately, our own compatriots are those who try to sink the product of our countries, envy, hatred and bad energy and as you know here, we do not have time to go around and hurt the rest and today we are going through this bad time, "he wrote.
Later, he stated that he tried to solve the problem as quickly as possible and encouraged his followers to listen to the subject in @spotifylatam, @itunes and the other platforms.
He also added that "life presents obstacles, barriers, We have never had an easy time, and today the story repeats itself, but we are stronger than any problemwe will look for the solution and I hope to get the video again soon so you can enjoy it and hesitate at home! "
He also thanked those who have always supported him and those who show him their love, but he was also aware of pointing out that "We will not let our arm twist in honor of you!"
"The evil and its crap always turn around, they can try to throw us a thousand times, but they can not, they can peel us, make cahuines, threaten, download videos, reject us, even invent accounts just to give negative messages and many other stuffbut there is something we have and you do not and it is love, love in our team, in our family, in our music and in our people! And with that strength nothing can be with us. Thanks again to them in our boat and our team. "
View this post on Instagram

I ask all your positive energy and I thank the concern for all those who have written to us. Unfortunately, our own countrymen are those who try to sink the product of our countries, envy, hatred and bad energy, and as you know here, it's not true. Go, we do not have time to hurt the rest, and today we have to use this bad time. I'm playing everything to fix it soon and while I invite you to listen to the topic of @spotifylatam @itunes and the rest of the platforms .. life presents obstacles, it puts us barriers, it was never easy for us and in Today, the story tells itself. But we are stronger than any problem, we will look for the solution and I hope to get the video again so they can enjoy it and hesitate in their home! Thank you to those who are always there for those who give us their love and trust in our work … we will not let our arm twist in honor of you! And thanks to every new person who joins us to support us, we thank you with all our heart, I just want to leave a last message. Wickedness and its shit always turn around, they can try to throw us a thousand times, but they can not, they can peel us, make cahuines, threaten, download videos, pass us off even inventory just to give negative messages and many others things, but there is something we have and you do not and it's love, love in our team, in our family, in our music and in our people! And with that strength, nothing can do with us. Thanks again to those who are in our boat and our team .. I hope everything is resolved soon .. attentively @freakrecords_ ❤ to