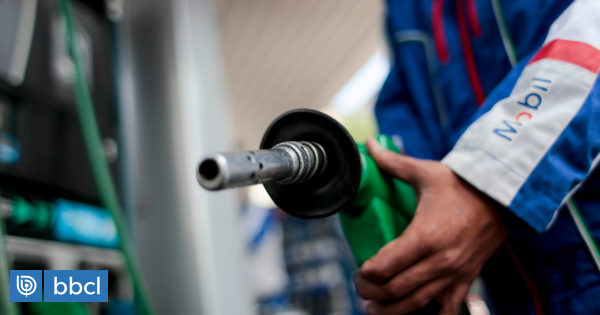 National Petroleum Company (ENAP) informed on Wednesday prices that will record the fuels from this Thursday pushed lower by the fuel price stabilization mechanism (Mepco), which prevented the upward pressure on the dollar.
According to the state company, since January 3, the liter of 93 octane gasoline will drop -5.8 pesos and reach 731.5 pesos as reference and mark its eleventh consecutive losses and return to the prices it maintained in July before the long period of increases recorded in 2018.
On the way, it 97 octanes It records its tenth week on the downside (at -5.8 pesos) and reaches 752.3 pesos per day. liter.
the dieselon the other hand, will reach 553.1 pesos per liters, which implies -5.8 pesos less than the previous week.
the kerosene, in the same line, notes a sharp drop of -14.9 and reached 466.9 pesos per liter.
In the meantime liquid gas (LPG) It will also drop significantly and remain at 209.3 pesos, as it will record a fall of 9 pesos over the previous week.
These prices are valid from Thursday 3 and Wednesday 9 January.
Under this scenario, the 93-octane gasoline will record eleven weeks on the downside with an accumulated fall of -63.2 pesos in the period after the long period of increases that raised the price 50.3 pesos for 10 weeks last year.
Meanwhile, 97 octane gasoline recorded its tenth consecutive decline, already accumulating a decline of -56.4 pesos following its bulging 43.4 pesos increase, lasting nine weeks in 2018.
Fall without brake
As reported by ENAP, the price of crude oil has fallen internationally to its lowest level since August 2017, driven by over-supply concerns.
In this scenario, economists claim that fuel prices could continue to fall in Chile, at least until March due to the low oil prices in international markets, which would also have an impact on low inflation in the first months of this year in our country.
To stop the fall, the most relevant producers worldwide, grouped in OPEC, decided to withdraw some of their production to offset the rise in prices, even though the cuts will not take effect until January and so far, the simple message has not stopped the fall.
Prices match ENAP reference valueswhich only seeks to provide relevant information to the fuel market, unlike those reported by the National Energy Commission in its online fuel price information system.

In fact, the company notes that it cannot be considered a document defining values ​​for the consumer in Chile, as these are completely free because the Chilean market is characterized by being open, competitive and deregulated.