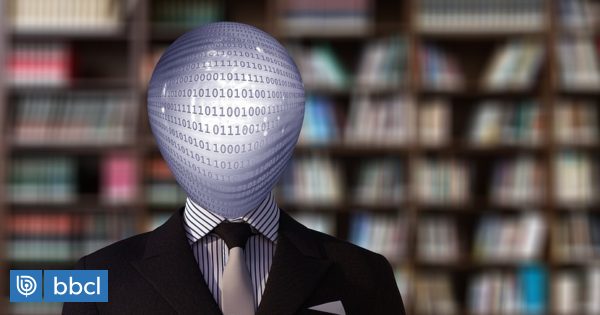 In its latest version, Encuesta analyzed Cademile's feelings about difference in social classesbased on the controversy that provoked the actions of the Gasco leader, Matías Pérez Cruz, with three holidaymakers at Lake Ranco.
In this line, the measurements gave three interviewers names, which in their opinion had to indicate the state or economic level they belonged to.
After hearing Ivan Melinao. 67% indicated that low or medium low, unlike the 26% who said high or medium high.
Meanwhile, Carlos Valenzuela belongs to the first team according to 43% of the consulted, unlike the 48% who thought otherwise.
Finally, Matias Errázuriz is a high class according to 91% of those interviewed by Cadem, with only 4% indicating otherwise.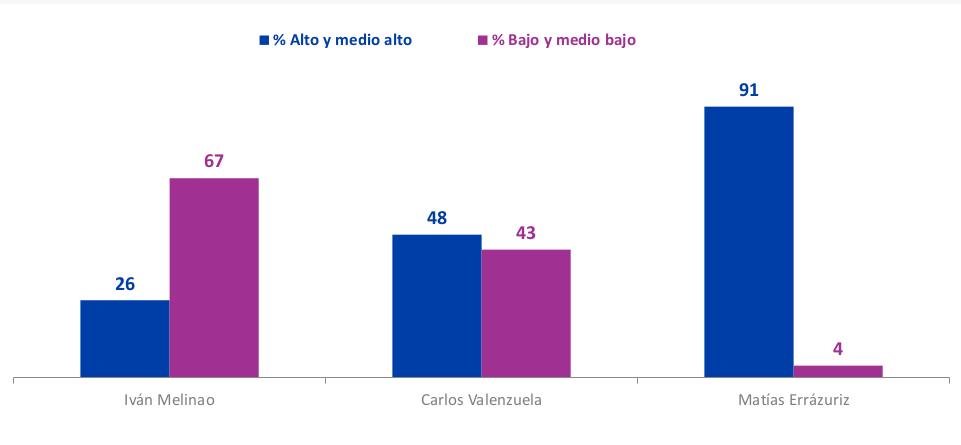 Wind in life
The same trend was repeated when asking questions about daily life, work and income. Apparently, Chileans assume it An Errázuriz will always win over the rest.
In that line, 83% said that Errázuriz is closer to perceiving a better pay Valenzuela and Melinao (6% and 4% respectively).
At the time of being well taken care of in a bank, one of the aristocratic last names came back to take the first with a 79% response.
In addition, according to the interviewees' opinion, Errázuriz is more likely to take a trial in the courts (76%), be able to pay an isapre (73%), be president and get better results in a job interview (72%), and achieve a better score in PSU (49%).
On the other side of the spectrum, 36% said Melinao is closer to having alcohol problems, posted by Valenzuela (30%). Only 18% is called Errázuriz.
But when it comes to committing a crime, the picture is smoother. 29% committed to Errázuriz as author of an illegal act, followed by Melinao (27%) and Valenzuela (26%).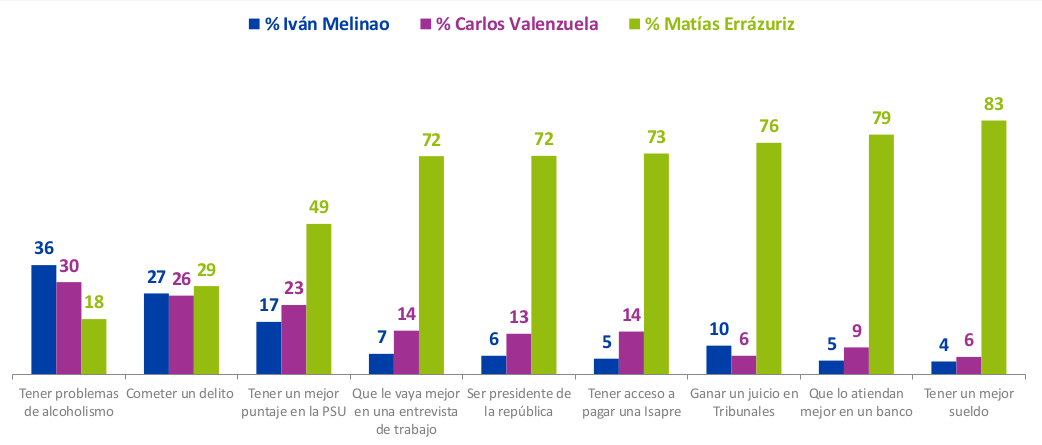 2014 vs. 2019
In the same version, Cadem repeated a study conducted in 2014 "Culture of Opportunities and Profits".
In comparison, four questions were raised based on a percentage of high or very high probability that the following situations occur.
Among these is the possibility of a "Intelligent youth but without resources" goes to the universitywhich went from 39% to 43%; and the fact that a middle class person has a very good financial situation that jumped from 33% to 35%.
The fact that an entrepreneur transformed his company into a large and successful company increased from 28% to 31% and that a "poor person" left such a state rose from 18% to 21%.
the situations that recorded a low, to the same extent they were the fact that a woman gets the same income as a man for the same job (30% to 27%), which every worker acquires his house in a reasonable time (27% to 21%) and that a person who does not live in Santiago has access to the same government services (19% to 15%).
This version included two new questions. According to the answers, 17% of the interviewers believe that an intelligent young person, but without contacts, can become the general manager of a company.
Meanwhile, only 9% said they believed that a "poor person" could become president or parliamentarian.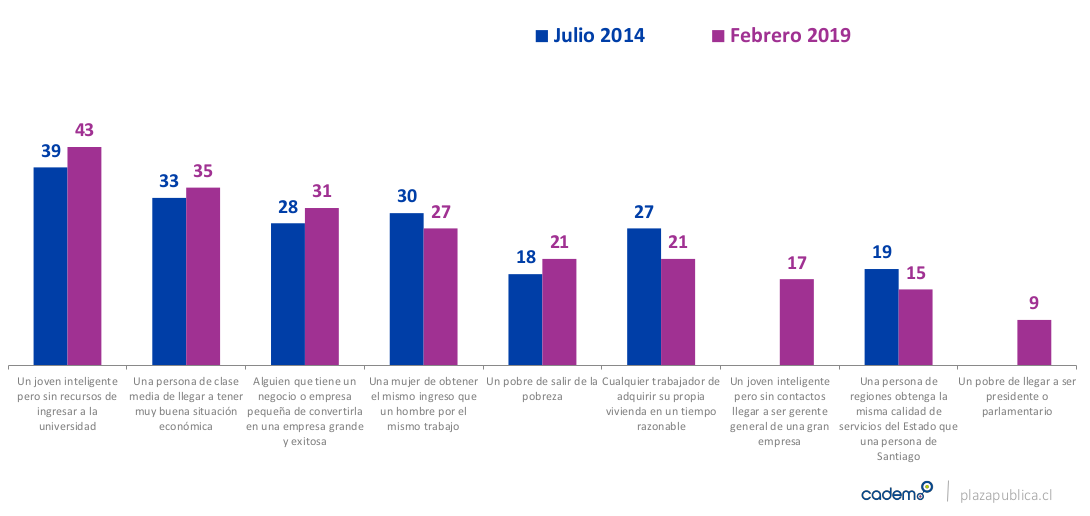 ¿Klas Semitism?
According to psychologist Daniela Troncoso, the above "reflects the way in which current western society, which points to success and individualism. "
"Most people are built of the image and judgments they generate in others" … I I'm what Juanita thinks of me… "" he said BioBioChile.
Asked if there is some empathy with those belonging to a higher social class, the professional said that this could be explained by "the desire to feel part of a privileged social groupwhere the activities, actions or culture of this group will be continuously validated for the purpose of being part of it at some point ".
When you improve your financial situation, People change their attitude with those around you? we asked.
"(…) At the moment when you actually get enough money to give free clothing to all material desires, the person again sees a dilemma in his identity & Who is I now? & # 39; As you perceive the pressure to be validated and accepted, both will try to replicate and generate them typical patterns of the subculture of the "privileged Chileans", change their dress, talk and interact with others, "he said.