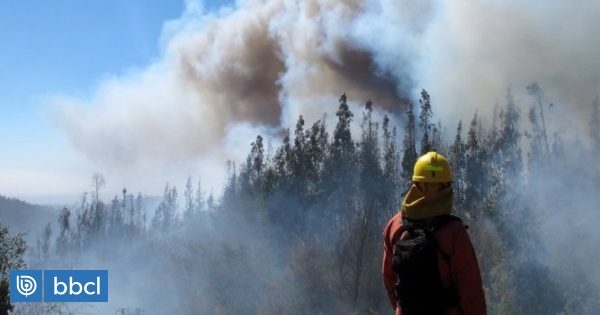 low Preventive early warning The Bío Bío region is due to the possibility of forest fires. This looked Red Alert was lowered in Quilaco due to containment of the loss.
As indicated by the National Emergency Office (Onemi), the temperature should fall in the coming days but await the forecast for the weekend.
In the phase of update figures, the National Forestry Corporation (Conaf) knows the actual extent of the fire Quilaco, which, according to the authorities could exceed two thousand hectares.
Sinister, who has already been controlled and forced the staff to work in difficult access places, so Red Alert was lowered for this municipality.
But at the moment, according to Bío Bío mayor, Robert Contreras, the region is under preventive early warning.
https://media.biobiochile.cl/wp-content/uploads/2019/02/as05alerta1.mp3
The high temperatures, above 35 ° C, mainly in the zone's inner zones, favor the conditions of forest fires.
However in the coming days there must be a drop in the thermometers, pending the announcement of the meteorological directorate for the weekend. This was explained by the regional director of Onemi in Bío Bío, Carolina Zambrano.
https://media.biobiochile.cl/wp-content/uploads/2019/02/as05alerta2.mp3

So far, according to the regional director of Conaf, Juan Carlos Hinojosa, there are no affected homes and no affected people, who took the opportunity to deepen the resources available to the company to combat fires in two regions: Bío Bío and uble.
https://media.biobiochile.cl/wp-content/uploads/2019/02/as05alerta3.mp3

The pending presentations of lawsuits against three people who were caught burning waste in the interface zone in San Pedro de la Costa and also in relation to what could happen in Quilaco.

The authorities continue to analyze the background without presenting actions in court.