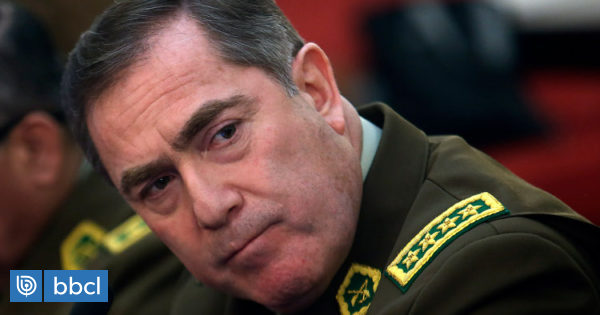 "Until December 12, I'll stay"This is the message that the Secretary General of the Inspector José Luis Rivera transferred internally, after being appointed as a subrogate in the post of Director of Order and Safety for Carabineros.
A decision made by Director General Hermes Soto, after accepting the proposal from La Moneda de Ask for General Inspector Christian Franzani's resignation, accused of acting negligently after killing the common Camilo Catrillanca.
Thus, the current leader of Carabineros, Hermes Soto, on Friday managed to convince Rivera not to return the same day but on December 12, one day after the interpellation of the Interior Minister, Andrés Chadwick, covenant that until Sunday evening continued into force.
In fact, according to sources of Radio Bío Bío, which in detail knew the dialogues that were generated there show that General Rivera I would have decided to return on the same Friday, 7 December, convey it to general soto and argue for it does not share the way in which the crisis has been ruled and he does not feel that he has the confidence of Sebastián Piñera to lead, although he does it as a subrogation, a very complex leadership such as order and security.
Even the same sources explained that Rivera would have pointed out hours later "I saw how my general Franzani is getting dirty, without working time and today it goes like that. I do not accept it", the high official would have repeated on several occasions.
This situation leaves the Director General, Hermes Soto, in an abyss since his internal leadership is extremely doubtful, without submitting plans to strengthen internal communication.
Rivera to Bernales: "I'm not sorry for my general"
There are several senior officials who have currently remembered an episode that led General Inspector José Rivera when he was an intermediary in the sixth region, and the command of the institution was then General Director José Bernales, when he after a "Reprimand of the high official" He replied that he did not apologize.
According to the stories of that time, Rivera was on vacation when a phone call from his superior made him return to display figures and data related to the quadrant plan in your area, this in front of the Director General and dozens of officers and karabineros.
The presentation went smoothly unless Rivera began to make a mistake in the presentation, which gave the Director General's annoyance and interrupted his presentation to the point that He told him not to live up to what was required of him. Bernalesla completes the presentation.
After a couple of minutes, another officer Bernales told it Rivera had suspended her vacation to make an improvised presentation that the general director sent him to look for.
This dialogue, according to several Carabinero officers, showed the character of José Rivera since José Bernales apologized for the deal and he did not accept it, asking him for the transfer and explaining General Bernales that his leadership in Carabineros by the police department had already weakened.
Anecdote, as they remembered in the last few hours since José Luis Rivera returns to have the same position.