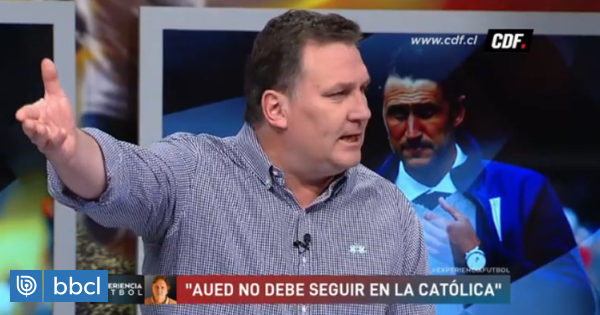 Have you found an error?
tell us
Capture | CDF
He asked for the end of the master figure. Luka Tudor, former football player and current TV commentator, the attack Luciano Aued, fly by the Catholic University.
In the context of the CDF's Experience Football program, the attacker, who shined at UC during his time as a football player, emphasized that the Argentinean would not continue in the precordillerano box.
"The battle with Aued existed. It was not a blow or something, but of course a player, a misplaced, unbalanced, that the cables were peeled so they told me it was ", convicted Tudor after confirming the end of Beñat San José from the bank "crossed".
"The cables are stripped is that in training you can pass your hand into a kick, say something and in the game too … is to raise your hands to your teammates," he added.
And that was not all. For all of the above, Tudor emphasized that "this man, Aued, for these things that I have ratified, I should not continue in the Catholic. "
"He respected Beñat in a training … Aued raised his voice to San José, but badly. He offended him. I have had discussions with coaches, but I joined or joined an office … I had discussions with Pellegrinibut nobody must figure out it's a bad companion, "he added.
Finally, Luka Tudor revealed a story about Trans-Andes who would have confirmed him from the club: "Aued, in the last six months of the championship that the players came together to have breakfast, he arrived and did not say hi to anyone in the last six months ".