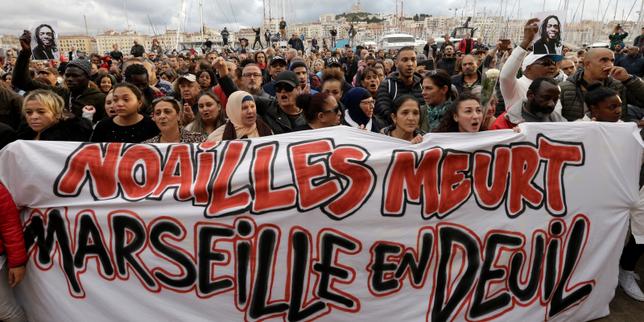 Eight thousand people marched Saturday in Marseille on the streets after killing eight people in collapse of two buildings.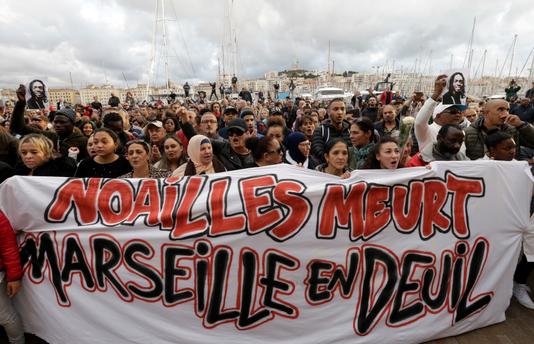 A large crowd crowd marched on Saturday November 10th afternoon in Marseille, in a chilling silence, through the neighborhood Noailles with diminished facades, where two buildings collapsed on Monday, which resulted in eight people being killed, a balance now final. They were eight thousand according to the police, "A human tidal", congratulations to the organizers.
On the procession's head, the relatives of the offspring carry a white sheet on which we read: "Noailles dies, Marseille cares". The friends of Pape Maguette, a young senegalese who died in a collapse of 65 rue d'Aubagne, burns his picture while one of his friends explains that the young man had a time during the tragedy day "For a new home".
A rose in his hand, a sign in his arm to condemn "Mayor's neglect", anger argues with sorrow among the protesters, poor and rich side by side. The gap is no longer between a north in the city that combines poverty, the violence in drug networks and the abandonment of public services and a rich and prosperous South.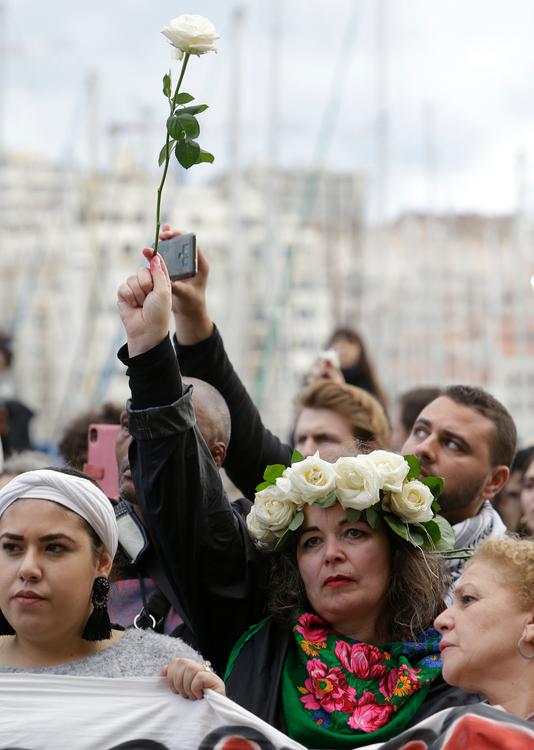 Alain Scemama recently moved to Marseille for his retirement and Noailles soon became one of his HQ: "I'll do my shopping, smell the atmosphere, it's Marseille that I love". Right next to him is Rachida sad: "They did not deserve to die just because they are poor. We poor people, we are living rejection every day. I live because I do not have clothes that attract, because I can not afford to receive".
It is a united and united Marseille as at the passage of the procession at Cours Lieutaud, where the fire department's battalion has installed their help stations for a week, thank you, thanks "Those who risked their lives in research".
Suddenly a balcony falls
Firemen sailors called a few tens of meters from the procession to save three people something injured in the fall of a balcony of 20 Boulevard Garibaldi. A big boom followed by panic, a collapse as resonance as a new bad blow to a municipality, demonstrators responsible for the tragedy and priceless housing where 100,000 Marseillais live.
Linda Chassaigne and her room mate tend to have a white sheet: "It's not rain". A slogan in response to the first declarations from Marseille, as Jean-Claude Gaudin, Mayor (LR), spoke of a particularly rainy fall as a cause of the tragedy. This teacher lives a few blocks away. She wants to express her "Great anger in disdain as the municipality shows, by the owners".
At age 73, Michelle hardly goes anymore, but she kept rolling her crutches because she "Aubagne Street in the Heart", a street that has always been poor in the depths of its memories, with its "Sellers of Nuts and Almonds". "The aperitif of Mr. Bizot, the baker of the plot, that's all my memories, it's a street that disappears"she lambs
Deputies (LRMs) in the northern districts, Alexandra Louis and Saïd Ahamada, and elsewhere, Jean-Luc Mélenchon, MP (LFI) in the district where the disaster evolved, parade without limits, without comments.
"Gaudin departure!"
Sometimes, the silence of a wave of applause breaks up in the procession. Renaud and Marie live in Noailles, a neighborhood where social mix is ​​anchored. "It is not normal, in 2018, that in other towns of France, the buildings break"says Renaud. "There are people who die in these buildings but the worst is that there are people living there", adds his wife, who admits "Desires for revolution, the people of Marseille are moving in the town hall, where there are kings who drink chocolate".
But the couple's little girl reminds them of the drama, a flower in her hand: "We have to talk about El Amine". El Amine, nine years old, lost his mother, he is in the same school as the little girl, Albert Chabanon School, where Noailles children are trained, "Classified in REP
while she should be in REP more »sorry for marie
In front of the town hall where all flags are at half-mile, a building like Bastille is located by the audience: "Gaudin departure!", "Gaudin in prison!" or again "Gaudin Murderer!" Surrounded by "November 5 collective", a group of associations and residents in the neighborhood created after the tragedy, speak relatives to the victims.
Feelings and statements
Perched on a pole, microphone in hand, the cousin of one of the victims thank the protesters, joining the firemen, the police: "It was a human drama. Do not forget them". "Live for them, please"Ask a woman in the megaphone before breaking into tears.
Do not forget anything, this is the goal of "November 5 collective". Kevin, his spokesman, lists the demands of relatives to the victims and hundreds of evacuations in nearby buildings. He claims a mourning day, the assumption of funeral expenses, including when resident abroad, but also removals in apartments not in the hotel: "We want the flowers and candles we lay down to not be removed. It's unacceptable to see police in helmets while trying to mourn".
The group wants to create a crisis unit, psychological and legal support, more specialized psychologists at Chabanon School and social workers who visit isolated elderly people. Time too "Time for residents to recover their belongings", in their home.
But what the residents of Noailles claim is "Truth, insight into the skills already made on buildings. Feel Mr. Gaudin, Mr. Macron, Donors, We'll Never Forget". The collective will also ensure that the disaster "Do not be allowed to let someone out of the neighborhood".
A few moments before the start of March, Deputy Admiral Charles-Henri Garié, Commander of the Firemen's Battalion, announced the end of the search because of "The security that fortunately there are no more victims under the rubble".
Source link