the OPAP and the Panathinaikos Athletic Club announced the launch of their sponsorship on Tuesday, November 13, 2018. OPAP supports the efforts of the historical club's parts, which this year is celebrating the 110th anniversary and has already won 1500 titles.
With OPAP together with them, more than 2500 athletes with 19 clubs continue to offer distinctions and titles, giving great feelings to their fans. O Panathinaikos A.O. is one of the biggest clubs in Greece, a symbol of Athens, which participates in most of the country's sports championships.
The departments of Panathinaikos A.O. Men's Volleyball, Men's Volleyball, Men's Polo, Women's Basketball, Rugby, Futsal, Swimming, Diving, Athletics, Weightlifting, Fighting, Boxing, Fencing, Shooting, Archery, Ping Pong, Cycling, Modern Five Match, E-Sport.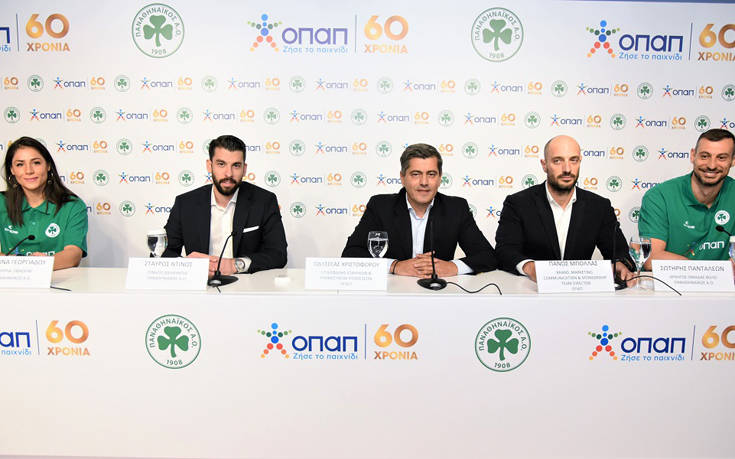 Christoforou: Connect sports with a social offer
Head of Corporate and Regulatory Affairs OPAP, Odysseas Christoforou spoke in the presentation at the company headquarters, said: "We are very pleased that our cooperation with Panathinaikos AO begins this important period for the club, as it coincides with the 60th anniversary of the founding of OPAP. For all of us in OPAP this is Anniversary an important milestone.
In this context, we try to connect sport to social security. One example is our action for the Athens Marathon, where we mobilized more than 270,000 citizens to contribute to the renovation of the two largest children's hospitals in the country "Hagia Sophia" and "Panagiotis & Aglaia Kyriacou" Offer OPAP. "In particular, through the application, the world gathered 3 400,000 points, which OPAP was converted to an economic offer. "
Dinos: OPAP is close to Greek sport and culture
CEO Panathinaikos A.O., Stavros Dinos, stressed: "It is a great honor for us to start working with OPAP. It is important that such an organization is located next to Panathinaikos AO. In a common course. We have shared values, principles and vision. will create values ​​for young people. Establishing good standards for society. OPAP has shown that it is close to Greek sport and culture for 60 years. We hope for good cooperation and even better things in the future. "
Bololas: It will improve our sponsorship footprint
Brand, Marketing Communication and Sponsorship Team Director OPAP, Panos Bolyas, said: "We are very pleased to welcome Panathinaikos AO, a club with a strong brand and a big story, to the family of our employees. The cooperation is of great importance to us and we believe it will increase our sponsorship footprint In society, OPAP has already launched ambitious programs aimed at supporting young athletes. Within this strategy, Panathinaikos AO sponsors as it includes young athletes from 19 races and academies. "
Pantaleon: OPAP is a living and integrated member of the Greek society
Panathinaikos SA's leader, Sotiris Pantaleon, said: "In his 60 years of history, OPAP is a living and integrated member of the Greek society and carries out many and important initiatives to support it. We are very pleased to work with OPAP, not just on the track but also on actions that promote the continued association of sports with society. "
Georgiadou: OPAP has shown its support in the new generation
Fencing Practitioner Panathinaikos A.O., Despina Georgiadou, noted: "From the important work of renovating the two largest children's hospitals in the country to OPAP Sports Academies, OPAP has shown its support for the new generation of Greece in practice. This is also very important for us in Panathinaikos, because the club has many young athletes who strive to not only star on the venues but also be inspiration for other young people. "