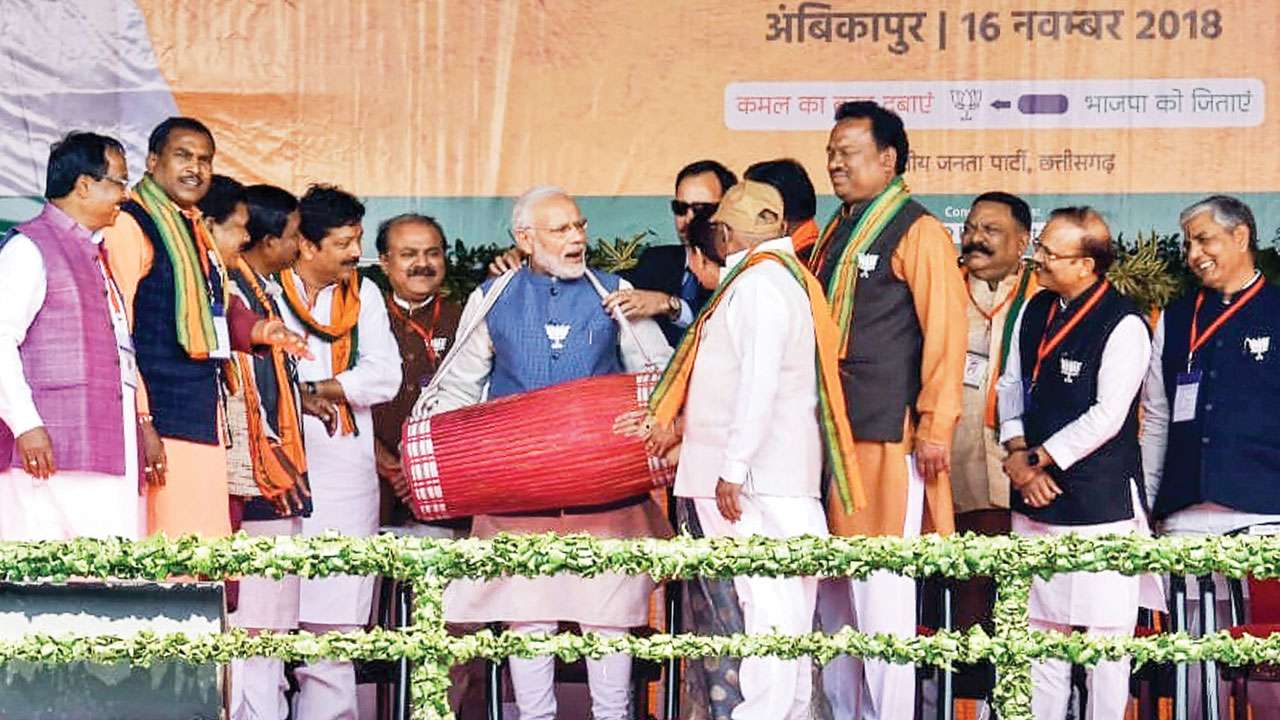 [ad_1]
Heating for the second phase of voting in Chhattisgarh on November 20 and in Madhya Pradesh on November 28, Prime Minister Narendra Modi and Congressional President Rahul Gandhi continued to attack each other in various rallies on Friday.
While PM Modi held "Dynasty Policy" as its main focus in its speech with different analogues, Rahul continued his attack on PM Modi on Demonstration, Rafale Business and Unemployment.
PM Modi has appealed to his longest rally in Ambikapur (Chhattisgarh) and has said that the party can not accept that a "tea seller and a poor mother's son" has become the country's prime minister.
Referring to Shashi Tharoor's latest remark that it was because of India's first PM Nehru's emphasis on inclusive policies that even a tea-seller could be our prime minister, PM Modi called it as an insult to 125 crore Indians.
"I invite Congress to make an outsider to his party's president, do it only once for five years … then I will say that Nehru Ji really created a truly democratic system," said Modi to take a jibe at Gandhi.
Dared Congress to account for four generations first, Modi said, if they do, "I will account for my rule for the last four years".
The PM also spoke about the formation of Chhattisgarh and said that while the Congress had been in violence during and before the formation of Telangana, Atal Bihari Vajpayee government had created Chhattisgarh peacefully through dialogue.
He also talked about government policies, such as Awas Yojana, Ujwala Yojana and Ayushman Bharat, the last one he said will benefit a population more than "the United States, Mexico and Canada" together.
On the other hand, when addressing a public rally in the Deori City Sagar district, Madhya Pradesh, Rahul Gandhi claims that after depreciation of loans worth Rs 3.5 lakh crore by selected industrialists, PM Narendra Modi would now renounce its remaining liabilities worth Rs 12 lakh crore.
Termination of demonetization as the country's largest ever fraud, Gandhi said, "Modiji let Mallya, Nirav and Choksi escape from the country with public money and left the fellow countrymen behind in bankshoes underneath notebandi. Did you see any big people like Ambani, Mallya, Choksi in queues under these days. "Congress president also accused PM of not talking about eradicating corruption anymore.
Gandhi accused specific questions for Madhya Pradesh and also accused Shivraj Singh Chouhan's government of destroying the health and education system in the state by handing them over to the rich people.
Calling Vyapam as the "century", he claimed that the entire state knew that Chouhan and his family were involved in irregularities. He promised to resign agricultural loans within 10 days after coming to Madhya Pradesh, just as his party leaders did in Punjab and Karnataka.
[ad_2]
Source link