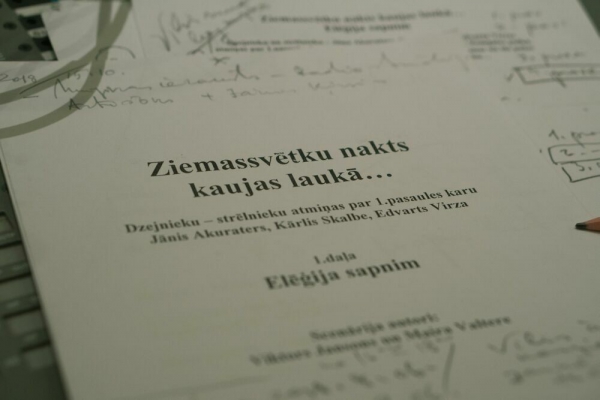 Poets and rifles – Janis Akuraters, Karlis Skalbes, Edvars Virzas memories of the First World War, when they all were together in one of Zemgale's fifth regiments, commanded by Jukum Vācietis. All three poets saw the scenes in the same war. And each of them has left his testimony …
The summer of 1914 began the First World War. John Akuraters wrote that the World War "suddenly, for the whole sunshine, made the end of his life, intercepting with his mysterious sword," also his dreams and fate.
Janis Akuraters, Karlis Skalbe, Edvars Virza, volunteered to join the Russian Army Corps, formed in the Russian Army in the autumn of 1916.
Jānis Akuraters wrote in his diary on November 23, 1916, that he had a conversation with Latvian officers about the tasks that were to be performed, and one of them was the writing of the war's chronicle. And the history of the Latvian registry must be written in such a way that every host can read it on Sunday morning for his family in a spouse's name. It was a special strategy for the Latvian warlords, first and foremost the Zemgale regiment's commander Yukuma Vācietis, to include poets, artists and musicians in his army without placing them in the first battles of the soldiers, but sending him to the sanitary, correspondent, crown of war tasks and put these sophisticated, sensitive, the aesthetic experience of those who disturbed the cruelty of war, the pile of dead bodies, dead and soldiers and in such a situation to speak in a patriotic artistic language that would inspire Latvian riflemen. There was a way to our country.
Scriptwriters – Viktor Jansons, Maira Valtere. Directed by Victor Jansson.
Production includes Kaspars Znotins, Vilis Daudzins, Ģirts Krumins
Composer – Jānis Ķirsis. Art-i-Shock music group – Agnese Eglin, Elina Endzele, Guna Sneu. Soloist Ruta Duduma.
Sound directors – Gustav Ērenpreiss and Andis Ploks. Producer – Māra Eglīte. Editor – Alda Briede.
Radio decoration dedicated to the centuries of the Latvian state. Recorded in Latvia's Radio Theater in 2018.
Projects supported by: