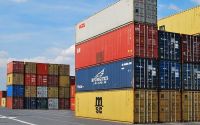 During the third quarter, economic growth was unexpectedly good, but manufacturing and export earnings weakened. In September, the export value of goods even showed a decrease of 1% compared with September last year.
Export growth will be more difficult in circumstances where trading partners' economic growth begins to slow down. Although there is a demand for a particular product group, acute labor force production and thus export volumes limit. Rising costs can, in turn, be a challenge for competitiveness.
Minuses in September consist mainly of rapeseed, dairy products, as well as machinery and equipment. It is also likely that during the coming months we will see the hot and dry summers in the export of agricultural products, especially wheat and rape.
The division of machinery and equipment this year has a significant impact on volatility in the exports of turbocharger and other gas turbine engines, which are likely to be related to replacement of airbased aircraft instead of real economic activity. In September, these fluctuations were negative.
Despite all the challenges, September and this year, they as a whole have embarked on excellent quality processing companies, which are further motivated by high selling prices. Exports of wood and wood products in euro have increased by more than 17% in the six months. Given that the installed tape is already very high and the slower price increase is expected, export performance will improve so fast, more and more.