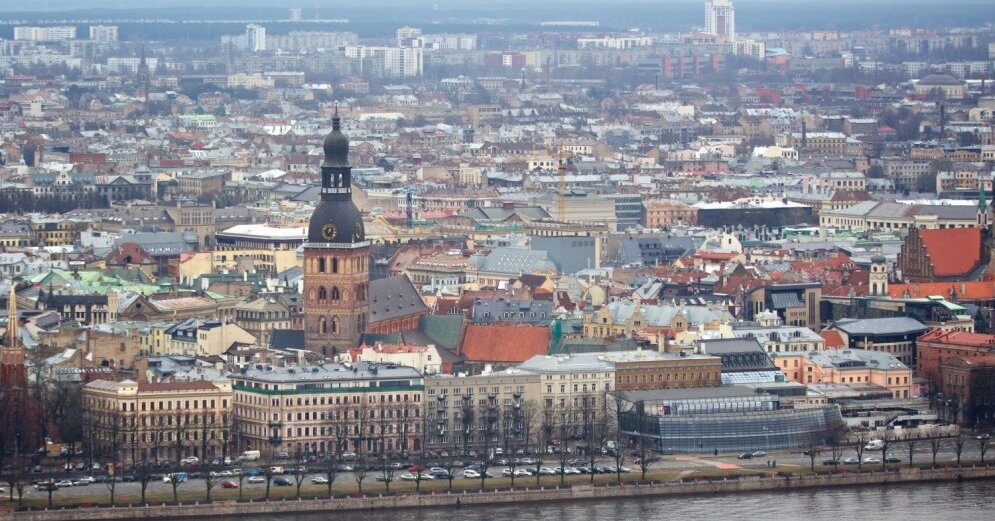 [ad_1]
Due to various celebrations today, almost all main streets in central Riga will have limited traffic and at the same time changes will affect public transport. Transportation will be free, additional flights will be provided, and it will change in traffic.
From 11.00 to 17.00, traffic is closed at the Radziņa Directorate-General, and from the railway bridge to Turgeņeva Street, but from 12:30 to 24:00 – at Aspazija Boulevard from Krišjāņa Barona Street to Kaļķu Street and Zigfrīda Annas Meierovica Boulevard.
At the same time, traffic will largely be closed at Raina Boulevard from Krisjana Valdemara Street to Krisjana Barona Street, Reimersa Street, Brivibas Boulevard section from Merkela Street to Raina Boulevard and Inženieru Street.
Temporary restrictions will be on Rainis and Aspazija Boulevards, Krišjāņa Valdemāra Street, Citadeles Street, Kalpaka Boulevard and Torņu Street.
From 20:30 to 22:30, traffic on Akmens Bridge, several parts of Victory Boulevard, closes as well as on the streets of Mukusalas, Akmenis, Kuģis, Gogol, Grecinieku and January 13.
The traffic on this day will always be closed in all the streets where military parade and torch march will take place. Similarly, there is limited traffic on almost all streets of Old Riga, as well as restrictions on heavy traffic will be determined on the street in Eksporta Street from Hanzas Street to Muitas Street and Krasta Street from Salu Bridge to the street on January 13.
On November 21, vehicles and pedestrian traffic will also be closed at AB Dam.
By November 19th, traffic is closed on November 11th from Akmen Bridge to Muitas Street and on November 11th the harbor along the street from the Polish gate to Jauniela.
In turn, to ensure successful delivery of people to and from the holidays, further public transport in Riga will be provided today. At the same time, public transport is free in the city today. Discounts do not apply to minibuses in white-orange color.
Between 12:30 and 22:30 there will be a shuttle service on the Zigfrida Annes Meierovica Boulevard, with the expected changes on Trains 5, 7 and 11, details of which are available on the company's website.
Due to the closure of traffic on Raina Boulevard, from 16:50, public transport to the city center will drive through bypass roads, mostly using Elizabetes and Marijas Street. Route 15 trolley bus goes to Central Market.
From 16.50 the traditional roads change to 1, 6, 9, 2, 24, 3, 21, 11, 13, 14, 15, 16, 50, 40, 57 and 59 buses.
The route changed this day also will not be avoided for passengers on trolley buses 1, 3, 12, 14, 15, 17 and 19. For example, from 13:00, the trolley bus route will be closed, and the rest until 22.30 will definitely change the routes.
Changes are also expected on express routes 206, 224, 300 and 316.
In order to make it easier for passengers to get to / from the venues, additional rounds 2, 3, 11, 12, combined 12, 23 and 26 will be given from 17:00 to 19 November one night (of stone bridges), 18, 23 , 24, 25, 37, 40, 41, 50, 51, 52 and 53 buses, 1, 5, 7, 10 and Route 11 on trams and train buses on routes 9, 14, 15, 17, 18, 22 and 27.
From around 18:00, public transport takes you through Stone Bridge or Kipsala. These changes will also affect a large proportion of buses, trams and trolleybus routes.
During the military parade of the National Armed Forces and the Ministry of the Interior, there are possible delays in public transport on the stretches of Akmenbron, Aspazija Boulevards, Raina Boulevards, Merkela Street, Brivibas Boulevards, Brivibas Street and Bruninieku Street.
On the other hand, during the Sunlight light show, the 10, 23, 26, and 27 trolley bus changes if necessary, that is, due to the changes, these routes will not stop at the stop "National Library".
Details of all changes to the route change can be found at www.rigassatiksme.lv.
Public transport will be on Monday, 19 November after a weekend. Passengers who have purchased a driving license for their working days will not be eligible for driving licenses today.
The paid parking spaces served by "Rīgas Satiksme" will be available free of charge on November 18, except underground parking on Krišjāņa Valdemāra Street 5a – there will be a fee for parking in accordance with applicable fees.
On 19 November, parking spaces in Old Riga (R-zone) must be paid for parking. Parking spaces for A, B, C and D can in turn be used free of charge for a certain day. The use of underground parking at Krišjāņa Valdemāra Street 5a will be charged according to applicable fees.
[ad_2]
Source link