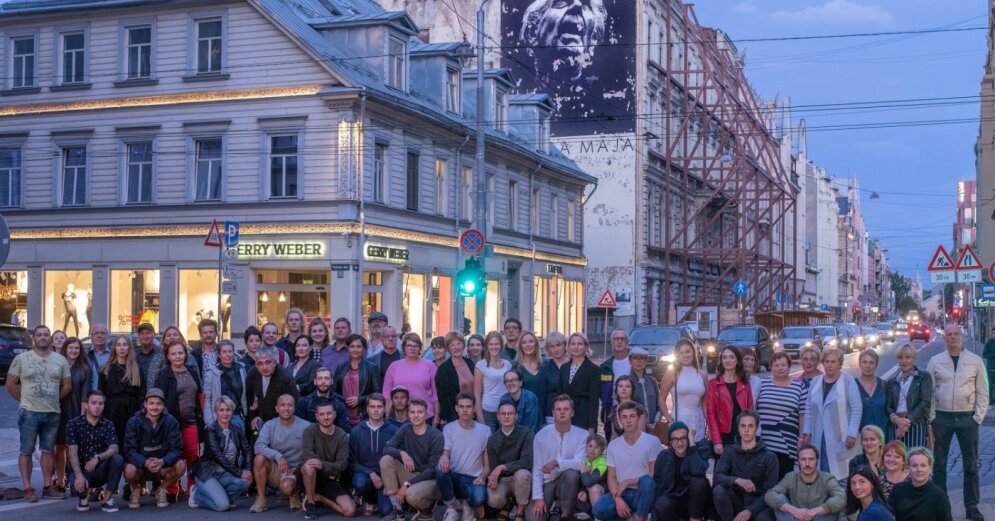 New Riga Theater (JRT) collective by 2019/2020. The season's opening on August 14 was gathered in traditional co-production, this time choosing a symbolic location – the intersection of Lacplesa and Terbata's streets with the current buildings of the JRC buildings at the intersection of the real estate conflict.
With joint collection and photography, the JRT collective temporarily blocked traffic on Lacplesa Street, but the theater's artistic director, Alvis Hermanis, promises to do so every year, reminding the country's political, bureaucratic and legal powerlessness.
On his official Instagram account, Herman writes: "We left home two years ago and this season should have started to return there. Yesterday we blocked Lacplesis. We repeat it every year as the season begins. Every year as one reminder of the country's political, bureaucratic and legal powerlessness. "
As a reminder, the New Riga Theater (JRT) group at the August 15 season opening conference expressed its misunderstanding about the ongoing conflict between developer ReRe Bve 1 and the State Real Estate Agency (VNĪ), while Alvis Hermanis did not hide any underwater stone.
Herman said at a news conference that the issue was not about "piling and drilling," but about something else. According to the director of the JRT, politicians are least willing to talk about this issue because it is "builders" who sponsor them.
It has already been reported that the rebuilding of JRT essentially stopped last November when piles were halted at the construction site in response to complaints from residents of surrounding homes about the occurrence of cracks. Within seven months, the client – VNI – and the builders failed to agree on a solution that would allow the construction work to proceed. Therefore, on July 23, the board of VN July unilaterally decided to terminate the contract to rebuild JRT with RERE Būve 1. The contract was terminated on August 13.
VNĪ has filed a lawsuit requesting enforcement of a contractual penalty from RERE B ofve 1. The construction company, for its part, has secured an appropriate ban on any transaction, including contracts with other construction companies, for continuing the JRT project as a security requirement against VNO. The court also ruled that VNI is prohibited from claiming an amount from builders on the basis of a bank guarantee for advances or a guarantee from the insurance company.
We remind you that on August 1 this year, representatives of VNĪ and RERE Būve 1, as well as architect Zaiga Gaile, participated in the discussion "Delfi TV with Janis Domburs". Watch the full recording here!