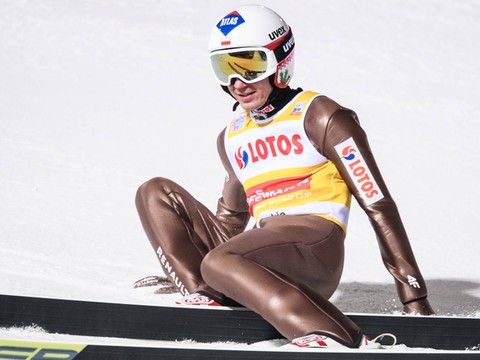 Tomasz Kalemba: You stood heavily after the second jump. Have you been angry with yourself or something else?
Kamil Stoch: I thought this jump was not as good technical as the first one. The direction fled a bit too much forward. This is because I lost some balance when I bounce. Until the end I had struggled for the distance and this was due to the landing. I was not happy with that.
Only podium was missing only 0.3 points.
Kamil Stoch: But I'm not angry at it. Sure, it's better to be on the podium, but the fourth place is also a very good start to the season. Especially after what happened on Friday when I was a bit confused because I did not know where I was. A conversation with the coach and corrections that I introduced helped. It helped and got the correct rhythm. I started the weekend in Wisla and I stopped fighting for the podium. This is a great result for the season.
That friday worried you so much?
Kamil Stoch: Disoriented. I knew how much work I was prepared for this season. It was a very intense time. I knew it did not go to the woods. All she had to do was play the techniques with my physical condition. It happened and amazed.
The conditions on the Sunday do not save you a little. The wind was spinning, and probably there were so small differences.
Kamil Stoch: The beam was low. On the other hand, if it was higher, it could be dangerous when the wind was up. The jury handled our safety first of all. Nothing has happened to anyone and this is the most important thing. At this stage it is very important.
I understand you are leaving Vistula happy.
Kamil Stoch: And how! Sure, I'd rather win or stand on the podium. But you have to take what is. The more so that we have a very long season before us.
It is after all one of the better beginnings of the season in your career. You only started better once. A year ago in Wisła, when you were others. The Lord is the type of player that accelerates from the competition for the competition.
Kamil Stoch: Yes it is. Certainly, I am aware that these were not my best hope. I'm not in such a way that I'm sure I can not afford much more. I still need some solid hope to increase my confidence.
Many of these hopes need to be improved?
Kamil Stoch: There is always something to improve. In Wisla I worked mainly on the access position which gave me a lot of problems. On Sunday I got a good feeling. Other errors have occurred. Still, it was fine.
Some new jumpers performed at the forefront. Do you think they will be able to maintain good disposition throughout the season?
Kamil Stoch: I do not know. Time will tell. I do not want to get into such discussions because it's not my business. I will focus more on myself. These new faces are really a nice surprise and variation. The Russians will use such a victory very much. After all, they invested a lot of resources in the development of ski jumping. Certainly not all competitors have achieved the optimal for these first races. There were some jumps out of "10" in Wisła, and yet they can win.
Looking forward to the reindeer, Nicholas and a trip to Ruki?
Kamil Stoch: Certainly! We face another competition, another challenge and another chance for a good result.
Source link