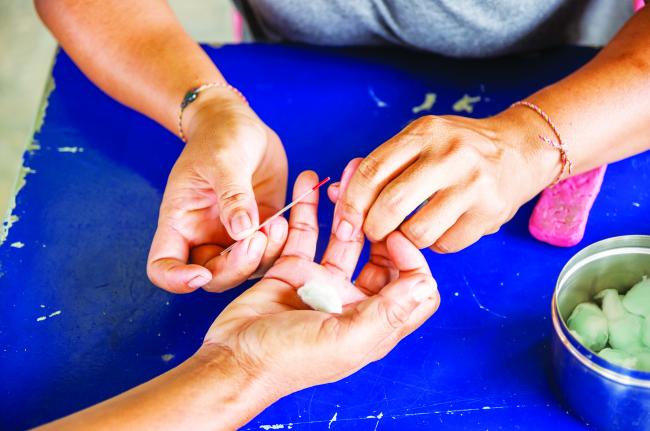 The theme for the 2018 edition of the World Diabetes Day is "Diabetes Relies to All Families".
Over 425 million people live diabetes by an estimated 629 million in 2045. Most cases are type 2 diabetes, which is largely prevented by physical activity regularly a healthy and balanced diet and promotion of a healthy living environment. The family plays a key role in prevention by providing education, resources and the environment for a healthy lifestyle. All families are potentially affected by diabetes, and thus awareness of signs, symptoms and risk factors for all types of diabetes is important. But less than 1 in 4 family members have access to diabetes education programs, so it is important that education and support for diabetes is available to all people with diabetes and their families.
In 2017, the theme of the World Day Against Diabetes "Women and Diabetes – Our Right to a Healthy Future" was motivated by the worrying situation that over 199 million women worldwide live with this disease, estimating that by 2040 the figure will reach 313 million. With 2 million women losing their lives annually because of this suffering. In addition, one of seven born victims of pregnancy diabetes. The good news is that more than 70% of type 2 diabetes cases can be prevented by adopting a healthy lifestyle, which must include exercise, maintain normal weight and avoid smoking.
In Romania there is a long tradition of research and treatment of diabetes. In 1921, Professor Nicolae Paulescu discovered insulin. The Romanian researcher has shown the effectiveness of this substance in reducing hyperglycaemia and has used insulin to treat diabetes. His discovery, the insulin injection, saved millions of lives.
The Romanian society for diabetes, nutrition and metabolic diseases was founded in 1957. In 1967, the specialization of diabetes, nutrition and metabolic diseases in Romania was established, as 1970 was an independent specialty in the MS Special Competency Nomenclature. The first series of specialists began their operations in 1976.
The two types of diabetes are type 1, characterized by a total lack of insulin in the body and type 2, characterized by the presence of a higher amount of insulin than in the normal human but the body can not use for various reasons or by a small amount than normal but without complete deficiency. In turn, insulin is a hormone secreted by the pancreas that regulates the metabolism of carbohydrates, lipids, antidotes and minerals in the body.