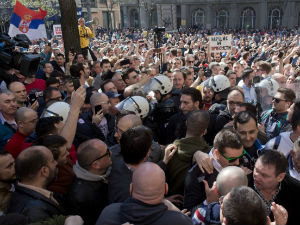 Recall that the demonstration of the movement "1 in 5 million" months went to peace, BBC reported that they escalated on Saturday as supporters of the movement fell into the RTS building.
"Vucic, a reformed extreme nationalist who now wants to lead Serbia to the EU, said earlier that he would not accept the demands of the opposition to implement election and media reforms," ​​the British public service said.
In the article entitled "Protests in Serbia: President Vucic Target Belgrade Demonstrations", BBC He also reported that a record was published on how Vucic plays chess in the presidency with the Interior Minister, at the moment of the crowding-out in front of the building.
According to the British media, Vučić said at the press conference today that he was not afraid.
"Serbia is a democratic country, a country of law and order, and Serbia will know how to respond," he said BBC addresses the Serbian president and added that he called protesters "fascists, thieves and hooligans".
Recall that protests in the "1 in 5 million" movement began last November, BBC estimates that "the president of the extreme right-wing movement Dveri Bosko Obradovic is now one of the most prominent protest protesters".
As she adds BBC Obradovic, who was among those who came heavily into the RTS building, called Vucic a fascist.
The British public service also estimates that Vucic, when he said "1,000 people think they can determine the fate of a country," probably underestimated the number of protesters.
Source link