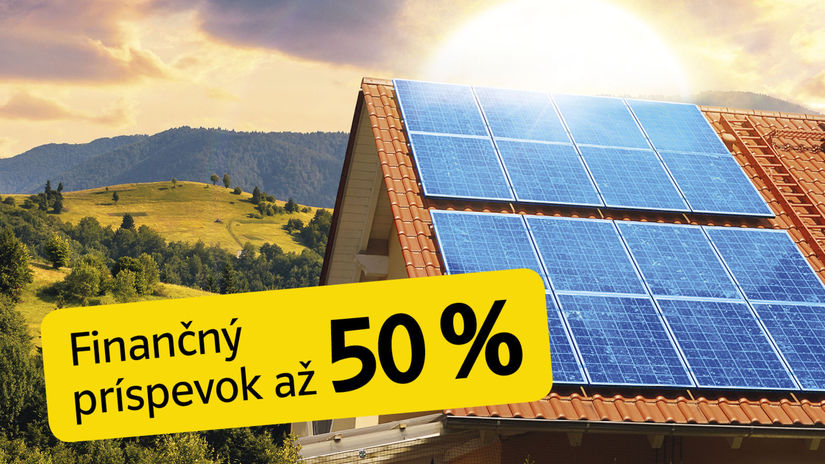 PR service

06.02.2019 06:00
This revolutionary new feature enables photovoltaic customers to store excess electricity in a virtual store and use it at a time when they need it.
How does a virtual battery system work?
In most households, electricity consumption is highest in the morning and then
evening and evening. However, photovoltaic panels produce most electricity
just during the day when consumption is minimal. "For customers to be able to
use maximum electricity produced from its solar cell,
we have decided to include in our offer a new service – Virtual
battery. In practice, this means that if the customer Have a solution
ZSE Fotovolt Standard 3 kWp with virtual battery that increases its annual
electricity savings of approx. € 100 compared to the same
solution without a virtual battery, "says Erik Chabreček, an expert at
SSE solutions in ZSE. Author: PR Servis
The advantage of the virtual battery is that it is powered by ZSE, so it's not
Customers need to buy their own battery. before virtual
battery Save excess energy as the customer at a given time
consumed. ZSE stored electricity returns to the customer at the time of delivery
will need it. When consumer consumption is higher than production
its solar solution, it will first use the energy from the virtual battery up to
saw it from the distribution network. "When supplying electricity from a virtual one
the customer's battery only pays the operator's variable costs
distribution system and will save electricity costs. service
We will only supply a virtual battery for all ZSE Photovoltaic solutions
for 2 € with VAT per. month, "adds Erik Chabreček from ZSE. Author: PR Servis
Financial contribution to sun solutions
This year, household customers will again have the opportunity
to make a financial contribution to the installation of the plant using
energy from the sun up to 50%. The grant will be provided
through the environmental quality operational program within
national project green households II. "Customers who have
The interest in obtaining a financial contribution can be left to us non-binding
contact www.zse.sk/slnecna-energia.
We then give advice on choosing the right solution and after signing
We cover the administrative issues associated with the equipment
financial contribution to the chosen solution. We have a photovoltaic offer
panels with a virtual or physical battery and solar collectors for heating
water. After the financial contribution is made, we will complete the installation, warranty and
after-warranty service, "adds Erik Chabreček from ZSE.
Learn more about ZSE virtual battery and solar solutions
with a financial contribution, see www.zse.sk/slnecna-energia