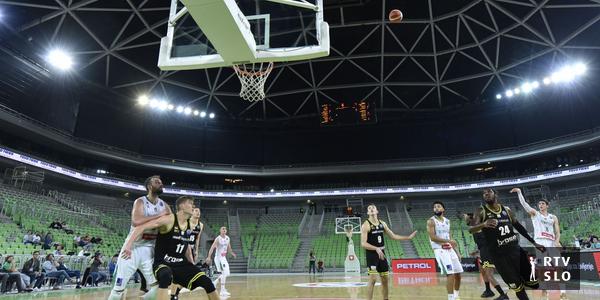 Only 700 spectators gathered in Stožice. Photo: BoBo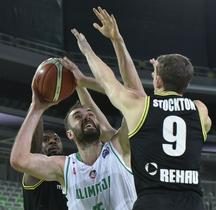 Mirza Begić scored 14 points. Photo: BoBo
They were released during the last quarter
November 13, 2018 at 19:30,
Last intervention: November 13, 2018 at 23:10
Ljubljana – MMC RTV SLO
Petrol Olimpija basketball players experienced fifth defeat in the 6th round in the Champions League. In Stozice, the third game was lost for the third time in four days, the German representative Bayreuth was better at 76:67.
The last quarter is the customers Zoran Martić still led (49:47), then the guests were better, the home team made too many mistakes and the victory went to Germany. Olimpija had 16 lost balls.
Good four minutes before the end The & # 39; Mon Brooks With Trojkan, Bayreuth raised the lead to 58:63, which was his highest priority then. Thereafter, an old acquaintance was invited to the citizens of Ljubljana, and last year their employees were Gregor Hrovat. He hit the ball and scored 59:65 after a counterattack. It was followed by his trio for 59:68.
Some hopes gave Olimpia a successful shot behind the line Mihe Lapornika, with which he fell to 64:68, but he responded with the same action Lukas Meisner. He followed a missed goal Aleksandar Lazic and two Lapornik and, on the other hand, a new trio with whom he is Bastian Doreth sealed the fate of Slovenia's champions (64:74).
Lapornik was Olimpia's best painter with 17 points, 14 of whom contributed Mirza Begić and Scottie Reynolds, which added 10 passes. Lazic scored 9 points and 14 rebounds. Brooks scored 13 points in the statistics, Hrovat and Adonis Thomas after 12.
Equal first half
After the first half, Olimpija led 39:37, the best shooter to break Lapornik and Begić, who scored 10 points.
The audience opened with a 4: 0 lead, with Germany leading 4: 8. The difference between the four points was also at the end of the first quarter (14:18). In the second, after three minutes, Olimpija equaled the first points in Reynolds when he scored three times for 24:24. Lapornik was also successful behind the line (27:27), and the hosts were then led at 31:27. With a trio Lazic, the benefit of the point increased (39:34), and the result of half-time was determined by David Stockton, son of former NBA legend John Stockton.
On Saturday, the ABA league in Ljubljana lost to the red star in front of his home spectators (60:83), and one day later they lost 85:62 in Sencur GGD's national championship.
At the previous match in the Champions League, Olimpija on Wednesday also in Stozice with 88:97 cloned in front of Lithuanian Neptune. Next Wednesday will visit Istanbul in Besiktas.
Stats after the match
Zoran Martić, petrol coach Olimpija: "Throughout the match we managed the jump, but we failed to take advantage of all the hopes in the attack. Until the last four minutes there was a match, and we lost three consecutive balls, the visitor team took advantage of this and made three light weights. "
Scottie Reynolds: "We've been fighting all the way to the last minutes, but then we did not play at the end we had to. We lost some balls, I take responsibility for the events on the floor, but it's still hard to swallow. Some matches were close to victory , but eventually they lost. "
Group D, Round 6:
PETROL OLIMPIJA – BAYREUTH
67:76 (14:18, 25:19, 10:10, 18:29)
700; Lapornik 17, Begić and Reynolds (10 podaj) after 14, Lazić 9 and 14 returns, Špan 6, Bubnić 5, Rebec 2; Brooks 13, Hrovat in Thomas after 12, Doreth 9, Martin 8, Stockton 7, Robertson 6, Seiferth 4, Meisner 3, Raivio 2.
Two points: 15/33; 20/42
Meet three points: 8/30; 8/22
Free throw: 13/19; 12/14
jumping: 45; 33
---
NEPTUNAS – Promitheas
82:83
Wednesday at 20.30:
OSTENDE – BEŠIKTAŠ
VIRTUS BOLOGNA – STRASBOURG
scale:
PROMITHEAS PATRAS 6 5 1 11
VIRTUS BOLOGNA 5 5 0 10
STRASBOURG 5 4 1 9
NEPTUNAS 6 3 3 9
-----------------------------------
BAYREUTH 6 2 4 8
PETROL OLYMPIA 6 1 5 7
BEŠIKTAŠ 5 1 4 6
OTHERS 5 1 4 6
M.
Report error
Source link