In the cozy atmosphere of the Antiq Palace Hotel in Ljubljana, iRobot introduced the highly anticipated robot vacuum cleaner iRobot Roomba i7 +. As the first in Slovenia, she received a recognized actress and television star Zvezdana Mlakar, who Roomba completely enchanted and completely changed her look at the robots.
More active than ever before
The actress Zvezdana Mlakar, which spans many theatrical performances and in the TV show Zvezdana, is more busy than ever, so she does not have much time for leisure. "Instead of screaming at home, if I make a little noise, I do the most, and I'm particularly happy and happy. I have so many plans that I can't believe in myself. Like I live a hundred years" Zvezdana Mlakar laughed.
It overcomes prejudice against robots: This is the future!
Excellent actors will now save at least one time-consuming household task, sucking. When tested by the previous robot iRobot Roomba 980, it was so exciting that it completely overcome the disturbance of robots. "My story with Roombo is so delusional that I find it right to share it with you. Initially, I honestly defended myself to try it. I've always had a team on the machines just before the robots, all the changes, for machines, I'm not, let alone, for instructions that come with, " said Zvezdana Mlakar. When she met her husband, she gave her a dishwasher, but she also defended her. "Then this devastated woman who entertained and pampered me so much and did not destroy me as expected. How wonderful she calls me when she does her job. We have a large open staircase and we all run for him, so sure on that robot but I did not say that they all told me that I had to retire with the chairs. What more, I roll around my axis and all the bags so it impressed me that I immediately bought a window cleaning robot. I say: Welcome robots! This is the future, "he says. Zvezdana Mlakar revealed in a conversation.
Matic Erzen
Interview Zvezdana Mlakar with the manager of Sanjo Macur
Star Mlakar got his robot
As the robot helped remove its prejudices, it decided to become the ambassador for the latest and most advanced model of the iRobot iRobot iRobot vacuum cleaner iRobot Roomba i7 +, which empties the entire cat itself and can clean only individual parts of the home according to our order. Like the previous model, we can also use this robot over a smartphone, turn it on and follow it, anywhere, or set the time and days when to start cleaning. Zvezdan Mlakar is the new, clean robot on the presentation presented by Tilt's director, d. Blaž Mole.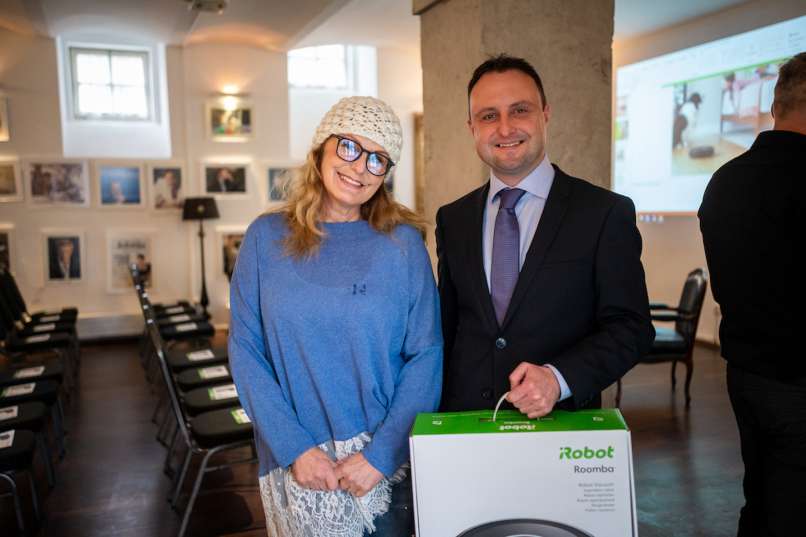 Matic Erzen
Star Mlakar and Blaž Mole
Starbuck's robot sits at five in the morning
Zvezdana Mlakar has put her robot on her smartphone via a mobile application for cleaning every morning in five, so her home is despite the many pets ready in the morning. "I also had prejudices because many friends and family told me they have robust vacuum cleaners, but they don't work. Now I just ask those they have" Zvezdana Mlakar laughed and added that she is most beautiful when the robot tells her at the end of the cleaning in English that he has done his job.
Don't worry about the guests
"I remember we had a party for Christmas, but I was so tired and I wondered how much it was to clean, but then I remembered that Roomba would do everything. It is not beautiful! Women often think we not need help but it takes a suck at least one to two hours several times a week and is never so clean " Zvezdana Mlakar concluded who was very pleased with the new robot. If not, since he has become an indispensable member of the family.
Matic Erzen
iRobot Roomba i7 and i7 + now also in Slovenia
About iRobot Roomba i7 + robot vacuum cleaner
The iRobot with the latest robust iRobot® Roomba® i7 + vacuum cleaner brings a new, even higher level of intelligence and automation to robotic vacuum cleaners. Roomba i7 + remembers the floor plan in the home and can only clean individual rooms when ordering, and after cleaning it evaporates automatically. Now also available in Slovenia.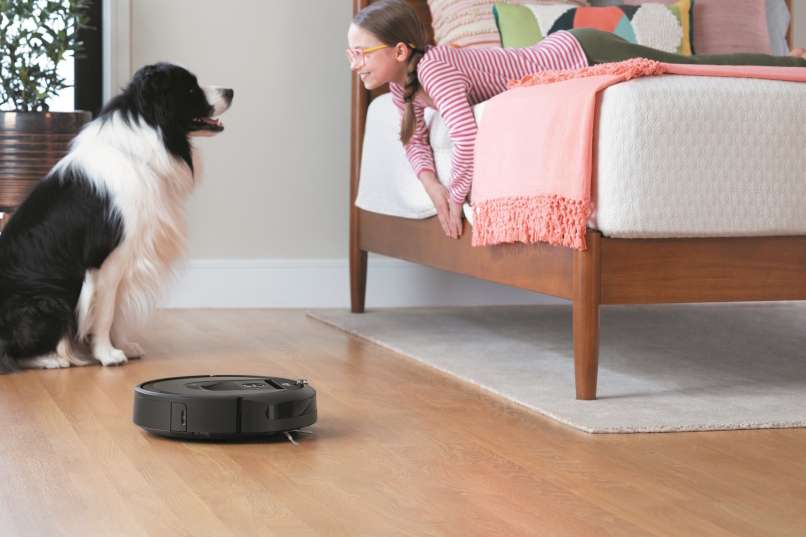 Sales Material
Roomba i7
She knows the floor plan of your home and understands your orders
As a pioneer in the new era of home-based robots, Roomba i7 + offers the possibility of cleaning selected rooms in the home. Using Imprint ™ smart mapping technology, Roomba i7 + learns to recognize the layout of your home, giving users complete control over which rooms are cleaned and when. The robot learns the schedule of the individual rooms and remembers up to ten different floor plans so that the user can take it to the second floor or home where the robot recognizes the location and cleans it according to the instructions. iRobot's patented iAdapt® 3.0 navigation with vSLAM® robotic vacuum cleaner Roomba® i7 + allows you to easily and effectively find the right way through your home, remember where it was and what to clean. The Roomba i7 + also adapts to changing home environments, so it always knows the best way to clean.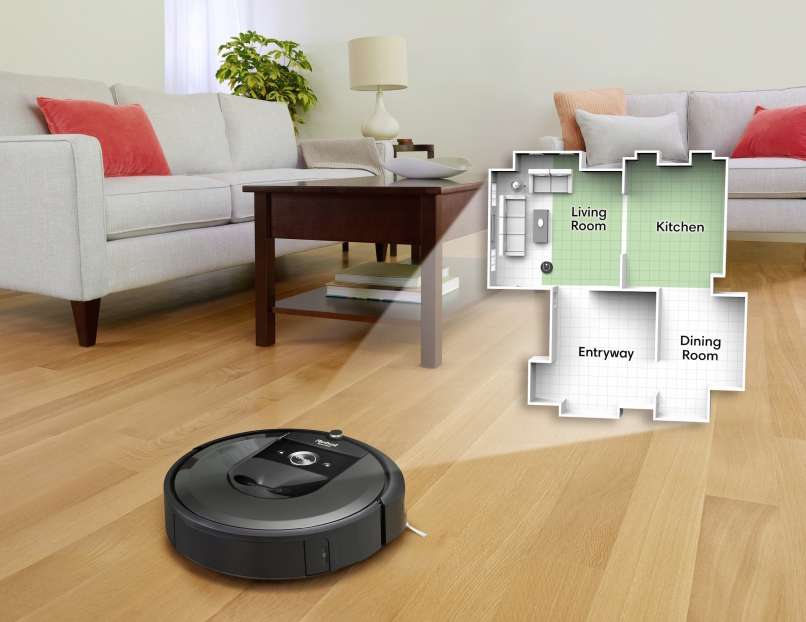 Sales Material
Using Imprint ™ smart mapping technology, Roomba i7 + learns to recognize your home's layout
You can activate the cleaning by talking
Roomba i7 + works with devices that support digital assistants Alexa ™ and Google Assistant, and is the only robotic vacuum cleaner that allows users to clean individual spaces by ordering it with a voice command1. For example, just say, "Alexa, order Roombi to clean the kitchen" or "Hey, Google, clear the living room" and the Roomba i7 + will find an effective way to clean the right room. When you finish cleaning, the robot returns to its charging station to fill and automatically empty the container when it is connected to the Clean Base ™ debris removal system.
Get rid of yourself
The iRobot Roomba® i7 + robust vacuum cleaner delivers a whole new level of comfort with the first Clean Base ™ dirt remover system that automatically drains the contents of the dirt container on the iRoomba i7 + cleaner in Clean Base. Clean Base, which acts as a charging station at the same time, removes all dirty tasks associated with suction, storage of garbage in a bag, and retention of dirt and dust so as not to return to air. When the bag is full, the user receives a notification through the iRobot HOME application. Then simply remove it from the Clean Base and replace it with a new one. The bag can hold up to 30 pieces of vacuum cleaner.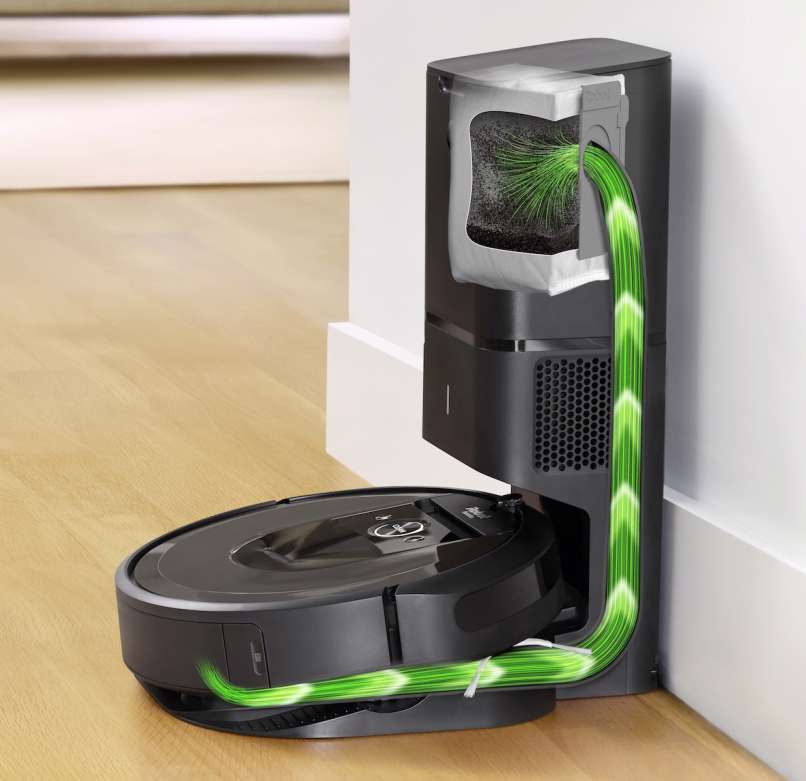 Sales Material
The iRobot Roomba® i7 + robust vacuum cleaner delivers a whole new level of comfort with the first Clean Base ™ cleaning system.
About iRobot
iRobot®, the leading robot manufacturer for home use, develops and manufactures robots that allow people to do more at home and outside their homes. iRobot created a category of robots to clean the home as it introduced the Roomba® robot vacuum cleaner in 2002. Today, the IRobot is a global company that has sold over 25 million robots worldwide. The IRobot products, including Roombo and the Braava® dishwashing robot family, are based on technologies and advanced concepts of cleaning, washing, and navigation. IRobot engineers are building ecosystems of robots and technologies that will create a smart home. For more information on iRobot, visit www.irobot.si.