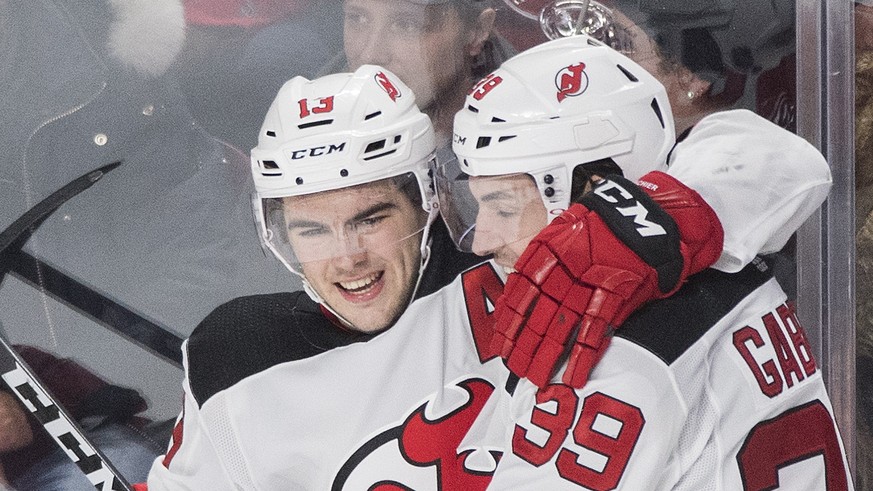 Photo: AP / The Canadian Press
Nico Hischier is as good as ever and will be there at the World Cup
Nico Hischier (20) gets better and better. He's luminary in the New Jersey Devils crisis. A meeting with "Roger Federer of ice hockey".
How can we know if anyone in an NHL organization is a leader? Of course, his statistics. But there are factors that testify even more.
We recognize the management wolves after a game in the cabin. Leitwölfe are the players around whom the largest group of chroniclers form.
And how do we find out who is the most important of the lead wolves? When players are questioned by another player in interviews.
Nico Hischier (second from the left) defeated Carolina. Image: AP / AP
Both are on Sunday night after New Jersey Devil's victory (3-2) against Carolina. First, Nico Hischier was besieged. He has prepared all three goals and has been awarded "First Star", the best player.
Then the message train takes two-hour score Marcus Johannson. Of course, the 28-year-old Swedes are asked how he feels after his great achievement and so on. This is part of the ritual. But first of all, everyone wants to know what he has to say about Nico Hischier.
This is the recognition: when you are so good that others are questioning him. Marcus Johansson praises his fellow player in the highest tone. Of course that is so. In North America you only have to talk about others when you have something good to say. Otherwise, silent.
But the recognition that the veteran pays the eight-year-old Swiss with over 500 NHL games is genuine. He praises Nico Hischier's role as leader in and outside the ice. His game of intelligence. His defensive and offensive qualities.
Nico Hischier's teammates unpack him:
Video: Watson / Adrian Bürgler, Emily Engkent
And there is another sign of the importance of a player in an NHL organization. The media gallery looks the same in most stadiums. Pictures of the main players hang on the walls. Beautifully framed. Most journalists rushed past carelessly. But it is worth looking into. These are pictures made by the best sports photographers. This season, a picture of Nico Hischier hangs up in "Press Box" at "Prudential Center". He is at least figuratively on par with giants such as Martin Brodeur, Scott Stevens, Scott Niedermayer or Patrik Elias.
And everyone in the age of twenty! Yes, Nico Hischier was not twenty on January 4. And already dominate a game of coarse, real and sometimes evil guys in the main league of the world. As if he already has many years of experience. He is only in his second season. And this second season is considered the most difficult of a professional career. The beginner's audacity is gone. It is important to meet the high expectations. Many great talents are almost or completely destroyed by it. Only the very big ones will get even better in the second season.
Nico Hischier is almost never. He has 39 points after 51 matches and will almost certainly improve on last year's statistics (52 points). He is in the second of three contract years. The first NHL contract is regulated for players of his age. Same duration (3 years) and same salary (not quite a million) for everyone. In spring 2020, the big cash fall will come. A multi-year contract – five years and more than $ 30 million – is definitely in it.
Wayne Gretzky Photo: AP / The Canadian Press
In 3: 2 against Carolina we saw the true Nico Hischier. He took most offensive actions. Not spectacular and hardly visible at first sight. But quiet, almost unnoticed with a smart open pass. A little bit (but little, we don't want to exaggerate) as Wayne Gretzky once did.
Nico Hischier has already been described as "Roger Federer for ice hockey". It can be risky. And that's a good comparison. He is neither crusher nor power or actor. He is a gentle genius in the center position. The top engineer in Devils' legendary engine room. A complete, perfect player with no weaknesses.
The superior game intelligence is the greatest quality. It makes him a century of playing by Swiss standards and still a decade of talent in North America. He is kind, modest and balanced off the ice. There are no scandal stories about him. Everything in his career has been perfect so far: Visp, Bern, Halifax, New Jersey. Still, he warns Roger Federer as a spokesman in the New Jersey Devil's crisis.
Expectations are sky-high. He was No. 1 in the draft for 2017. New Jersey Devils expects Nico Hischier to lead the entire company to a sparkling future.
Sidney Crosby Photo: AP / The Canadian Press
Sometimes the number one draft meets the wildest expectations. Mario Lemieux, Sidney Crosby (Pittsburgh), Patrick Kane (Chicago) and Alex Owetschkin (Washington) led their team to the Stanley Cup sooner or later.
But there are also very gifted players who simply do not expect their organization as expected (Connor McDavid / Edmonton) or did not expect as expected and were later transferred away – such as Alex Daigle (Ottawa), Eric Lindros (Philadelphia) or Joe Thornton (Boston )).
Last season, Nico Hischier was the only player in his team to play all matches, and Devils scored similarly the surprising playoffs as SCL Tigers this season.
This season, the "devils" do not come out of the crisis. Seasonal motto "Now we rise up" (literally: "Now we rise") resembles bitter mockery. They are the third weakest team in the league. 3-2 against Carolina was only the 21st win in the 55th game and has primarily statistical value. The chances of the playoffs are soon only theoretical. For Carolina, who is well-run and in need of every single point for the playoffs, the defeat was annoying as Godéron's Sunday bankruptcy against the Lakers.
Why are the devils in crisis? Nico Hischier does not see a reason. But many reasons. "It's the sum of the details that have been sentenced to us." It can have a disastrous effect on the balance. An important role is played by the damage-related loss of Taylor Hall (27). Edmonton Oilers 2010 number 1 draft.
Taylor Hall Photo: AP / The Canadian Press
Advantage: In New Jersey it is almost unstable, even in a crisis over Toronto or Montreal. Management can afford to be patient.
If it's not running, Leitwolf is responsible. Nico Hischier cannot be disturbed by it. "The pressure is still there in every game." So far, he has managed to live with this burden. Were there crisis meetings? "We had a team meeting and we talked about what to do better." No drama. Simply every day. Yes, he also spoke. "But I hold back."
Devil's bad luck can be luckily for Patrick Fischer. If the devils fail to reach the playoffs, national coach Nico Hischier can start from the World Cup right from the start. It would be the first world championship for Nico Hischier, and he confirms if the playoffs have missed: "If I'm fresh and I'm called, I'll be there."
For all modesty: he can certainly count on a team.
Ice hockey abroad – stories from the NHL
So much is worth all NHL teams:
Sign up for our newsletter
Source link