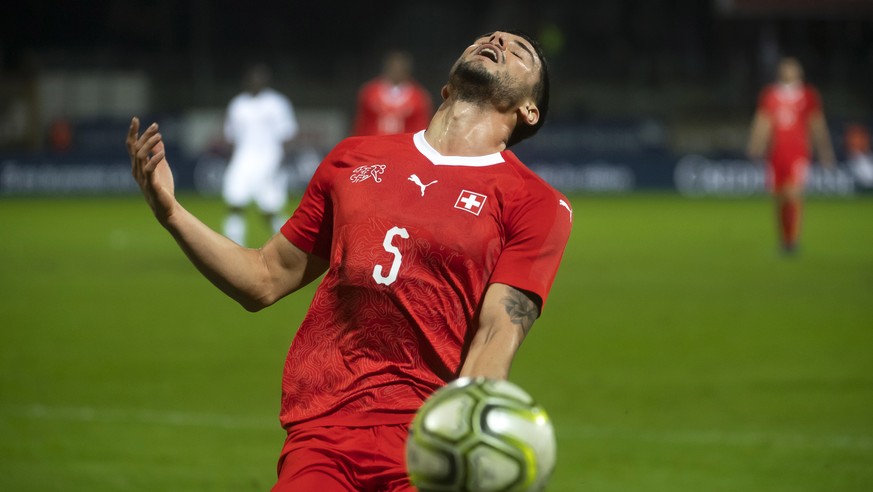 Christian Fassnacht is stunned after losing to Qatar. Picture: EPA / KEYSTONE
"We were just bad": Swiss Nati with "Betriebs blamage" against Qatar
Switzerland loses friendship against Qatar 0: 1 – why national coach Petkovic is still not angry.
Switzerland loses 1-0 to Qatar. And debakel? Embarrassing? Or just an annoying but insignificant defeat?
Yes, what should you think about it? National coach Vladimir Petkovic finds: "Qatar does not steal victory. Sometimes such an evening happens. It should not be. But we are also all human. That's why I'm not so angry with the team. "Defender Fabian Schär says:" We were just bad. So you just do not win games. The only good thing is that it was just a test match. "
Fabian Schär Picture: KEYSTONE
A mixture of understanding and self-criticism. Why? Understandable, for such games in the deep fall actually nobody needs. Switzerland against Qatar will only take place as a test match at this time required by Uefa. As much as this is a highlight for Qatar (number 96 in the world), it is a must for Switzerland (No. 8). And then it's the last will to really get into the duels, after a loss of the ball – or to come in line with the last consequence.
And yet self-criticism is appropriate. Because, in spite of everything, it can not be that Switzerland is in trouble with a modest opponent like Qatar, and even loses. It may also be a little pride if you wear the red Swiss shirt during a test.
Vladimir Petkovic Image: TI-PRESS
Whether it was more of a shame or an industrial accident, Petkovic still asks. "Something in between, maybe a hangover," he says. He did not lose his humor. Because he knows, the Swiss highlight is not yet to follow, on Sunday against Belgium, regarding the group's victory for the Nations League. Then a completely different Switzerland will be on the plan. "Maybe we actually saw a little too much on Sunday," says Petkovic, "and that's why I'm convinced that this is not a backlash."
You can understand him. Finally, the coach has set the direction with his line-up. It plays the second guard. Which one can also say: Those who should actually commit themselves to such a game have failed. From Freuler, Zakaria to Fassnacht or Gavranovic – all are bad. But more must come from everyone else. For Loris Benito and Leo Lacroix, it's the first international match, it will not be a good memory.
Switzerland becomes dangerous only twice. A title from Lang lands on the record. A shot of Fassnacht on the crossbar. But otherwise? The ball is pushed back and forth, a real plane is missing. The will to suffer for victory too. Over 90 minutes, Qatar has the better options, several times just before the lead. Only the strong Mvogo prevents them. Until 86 minutes. Then Akram Afif finishes a counterattack after losing the ball to Lacroix and Sow. The scene has some of the slapstick.
Felix Sanchez is delighted with the victory. Image: EPO / EPA
Felix Sanchez, Qatar's coach rightly said, "We were compact, well organized, it was not easy for Switzerland." And then he added: "I'm really proud of this achievement. My boys are celebrating right in the locker room. It was an opportunity for us to show that we can accompany players among the best in the world and have a lot of experience in the Champions League "That's good." The question about Qatar was so good or Switzerland was so bad Sanchez does not really care. Knowing that the result was also related to the scene. That's also why Petkovic will not analyze the game big. "Everyone understood what was missing."
Finally a look back. Qatar's 1-0 defeat on paper is Nati's worst result since the 2-1 FIFA World Cup qualifier against Luxembourg in September 2008, just after Ottmar Hitzfeld took over as a coach. Once there was a 0-0 on Malta, in February 2011. Since then, Switzerland has been saved for such embarrassment.
Well, losing to Qatar is fourth in their last six matches. A correction is urgent. Best against Belgium. (Aargauerzeitung.ch)
Swiss Nati turntables:
Women may participate in the final of the Asian Champions League:
Video: srf
Subscribe to our newsletter
Subscribe to our newsletter
Source link