King Power Cup 2018 football competition, age not over 15, 16 teams last, second day on February 11, 2019, at SCG club practice stadium, Muang Thong United, along with finding the best Thai youth, good pace, number 10 People to to participate in the youth football project "Fox Hunt", 4th edition, to practice professional football skills. In Leicester City, England for 2 and a half years
Interesting Couple Chiang Rai Provincial Administrative Organization (Black Dress) North Representative It was just lost to Assumption College Sriracha, 1-2. Meet with the Suankularb Wittayalai School (White Dress), representative of Bangkok who captured the Wichit Thit School (Bangkok Sports) to come 3-0 a day This Chiang Rai Provincial Administrative Organization School Not Winning will be eliminated in the last 16 teams immediately.
Start the game in the first half, only 2 minutes. Chiang Rai School District Can win from the opening of the ball along the line to Akarapong. The auction has tackled, but the ball runs across.
After 25 minutes, both teams continued to compete in the middle of the field. Each page opened the game together, but the final rhythm was not ready for either team.
Time to compete in the first half, 1 minute and finish the match at Chiang Rai School, always with Suankularb Wittayalai School 0-0.
Started the game in the second half only 4 minutes. Chiang Rai Provincial School Can Win From Free Kick Along Right Side Throw the ball in and Akarapong offers. His salad escapes the full strike. Head the ball into the goal to lead the team to the first 1-0.
48 minutes, Weeraphat Siriphatthachot, stationed on the left bank Get the ball from the center Returns to Santisuk, blindfolded by Saa, runs into the left with a full ball and throws the two poles beautifully Suankularb Wittayalai School is a 1-1 draw.
65 minutes, Suankularb Wittayalai School Can win the goal from the free kick, the distance of 35 meters, Sarawut Kamjornkietkul Try to shoot the ball and jump over the beam.
68 minutes, Suankularb Wittayalai School Can win the goal from the free kick again, 25-yard distance, peace, close his eyes, try to turn left, but the ball does not bend
Match time in the second half, 3 minutes, and timeout for both teams is the same. 1-1 will find the winner with a penalty shootout. And is on the side Suankularb Wittayalai School A penalty shootout competition is more accurate than 5-4 defeats. As a result, the Chiang Rai Provincial Administrative Organization eliminated the last 16 teams.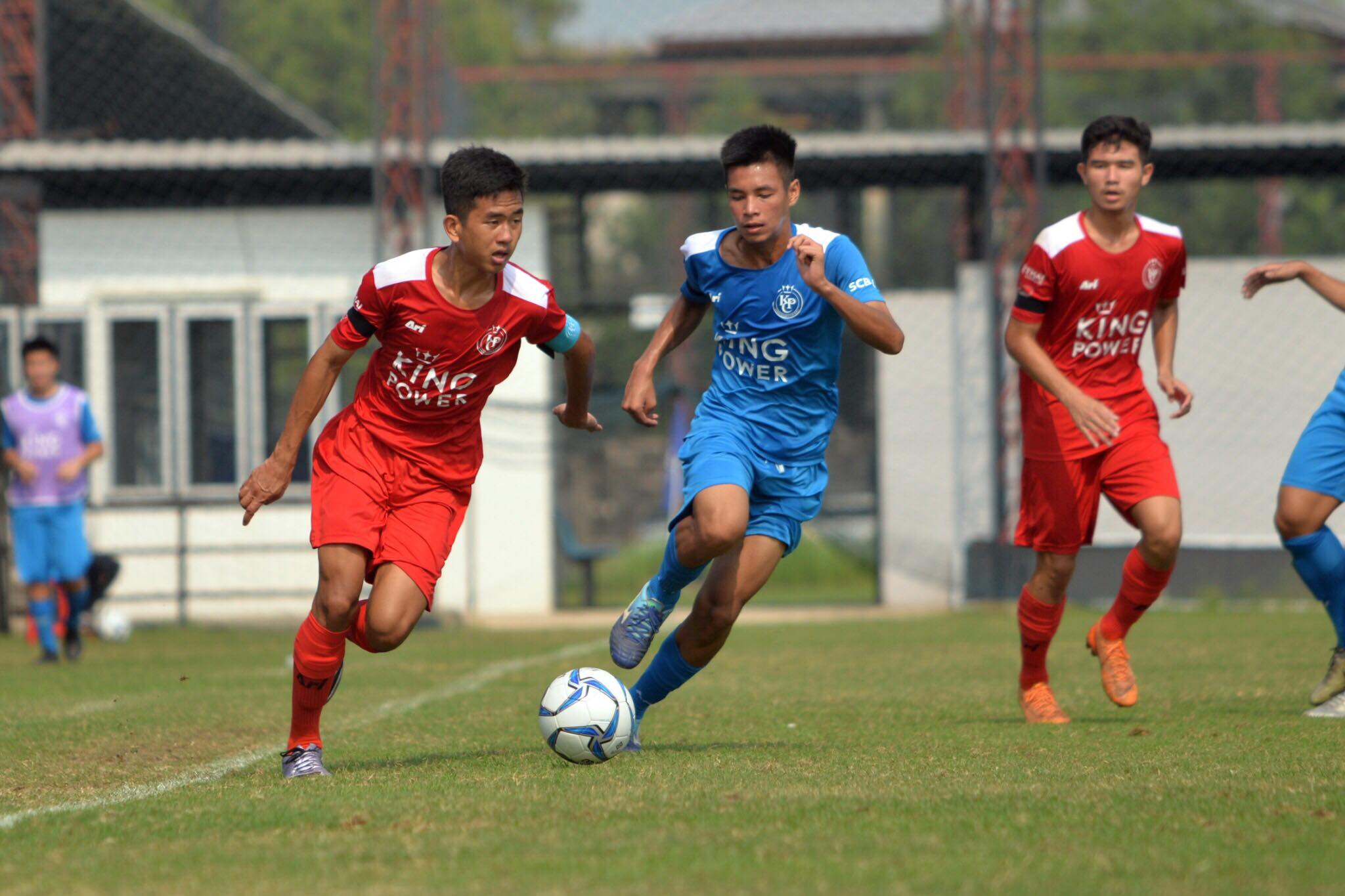 Results from the last 16 teams on February 11
Sai A (Trang Sports School, 8 finalists, 2 victories)
Surasak Montri School 0-2 Municipal School, Chom Khiri Nakphot Temple
Trang Sports School 1-0 Assumption College Bangkok
Line B (Nakhon Pathom Municipality Sports School passed 8 finalists, won 2 matches)
Thepsirin School 0-1 Pitchayaban School
Nakhon Pathom Municipality Sports Schools 3-1, Thawathapisek School, Bang Khun Thian
Sai C (Assumption College Sriracha and Suankularb School, wins 2 rounds through 8 finalists)
Wichitthit School (Bangkok Sports) 0-1 Assumption College Sriracha
Chiang Rai Provincial Administration Office 1-1 (3-4) Suan Roong Wittayalai School
Sai Dee (Wat School, written in the district, passed the last 8 teams, won 2 matches)
Ethics School 1-0, Khon Kaen Sports School
What Khet Khet District 1-0, Nong Pho Wittaya School
The King Power Cup 2018 round of 16 teams, the last 8 rounds and the semi-finals will compete on the SCG Muangthong United practice field during February 10-15, 2019, while the finals will compete at the Supachalasai Stadium, Bangkok on February 17, 2019 from 9 am. 16.00 and can watch live broadcast via True4U channel 24 or via https://facebook.com/Kingpowercup/

TTL Downloads: Stick to the popular Thai Toyota Leagues 2019
Source link