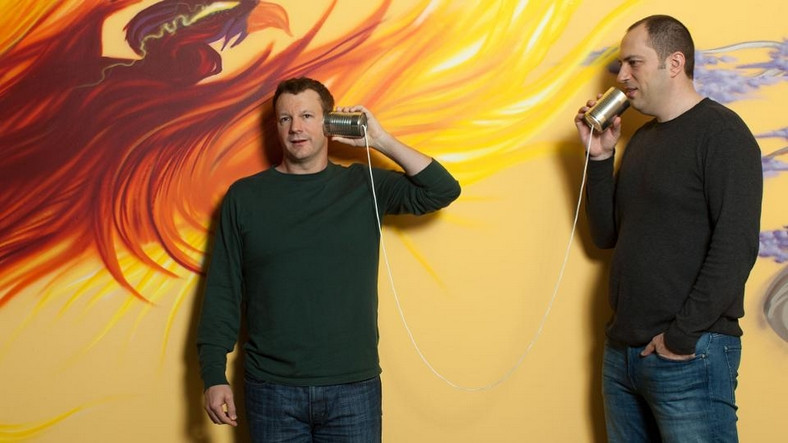 WhatsApp's founder, Brian Acton, once again painted Facebook with his speech at Stanford University.
Brian Acton, co-founder of WhatsApp, who also worked on Facebook for a while, sat down on the agenda with what he said in his speech at Stanford University.
Talon at Stanford University, Facebook's privacy crime, talked Acton about student life, Facebook said, to be deleted. In 2014, Acton WhatsApp sold to Facebook for $ 19 billion. In his speech, Acton also affected the sales event and explained that he had to think about the interests of the employees and the shareholders.
In his speech, the co-founder, who spent a great deal of time on Facebook, shared a post from his Twitter account after the Cambridge Analytica and Facebook event. In parallel with the idea of ​​the post it shared, it is possible to contact Acton, who speaks about the time to delete Facebook.
"It's time. #Deletefacebook"
Kaynak : https://www.buzzfeednews.com/article/ryanmac/whatsapp-brian-acton-delete-facebook-stanford-lecture
$ (Function () {
// facebook window.fbAsyncInit = function () { fb.init ({ AppId: & # 39; 1037724072951294 & # 39 ;, xfbml: true, version: & # 39; v2.5 & # 39; }); };
(function (d, s, id) { var js, fjs = d.getElementsByTagName (s)[0]; if (d.getElementById (id)) {return;} js = d.createElement (s); js.id = id; js.src = "http://connect.facebook.net/en_US/sdk.js"; fjs.parentNode.insertBefore (js, fjs); } (document, & # 39; script & # 39 ;, & # 39; facebook-jssdk & # 39;));
$ (& # 39; Body & # 39;). Ten ({ click: function () { // Facebook Save button ajax If fb.xfbml.p (); } }, & # 39; .facebook-save & # 39;);
// part scroll if ($ (content-sticky & # 39;). length.> 0) { if ($ (window). width ()> = 768) { $ (window) .on (& # 39; scroll & # 39 ;, function () { has scrollTop = $ (this) .scrollTop (); $ (& # 39; article & # 39;). each (function () { if (scrollTop> = ($ (this) .find (content body & # 39;). offset (). top - 76)) { $ (This) .Find (& # 39; Content-Sticky. & # 39;) AddClass (& # 39; Sticky. & # 39;); ($ (this) .find (& # 39; content body & # 39;). offset (). top + $ (this) .find (& # 39; content body & # 39)) height () - .find (& content & quot; content-sticky & quot;) height () + 92))) $ (This) .Find (& # 39; Content-Sticky. & # 39;) RemoveClass (& # 39; Sticky. & # 39;); $ (this). find (content-sticky & # 39;). css (& # 39; & # 39; bundle & # 39;: & # 39; 0px & # 39;, & # 39; top & # 39;: & # 39; car & # 39;}); } or else { $ (This) .Find (& # 39; Content Paste & # 39;). AddClass (& # 39; paste & # 39;). Css ({ & # 39; bundle & # 39 ;: & # 39; initial & # 39; & # 39; top & # 39 ;: & # 39; 76px & # 39; }); } } or else { $ (this) .find (content-sticky & # 39;). Remove Class (& # 39; Sticky & # 39;). css (& # 39; & # 39; bund & # 39;: & # 39; auto & # 39;, & # 39; top & # 39;: & # 39; 0 & # 39;}); } }); }); } }
// del click $ (& # 39; Body & # 39;). Ten ({ click: function () { was $ this = $ (this) dataShareType = $ this.attr (& # 39; data-share type & # 39;), dataType = $ this.attr (& # 39; data type & # 39;), dataId = $ this.attr (& # 39; data id & # 39;), dataPostUrl = $ this.attr (& # 39; data post url & # 39;), dataTitle = $ this.attr (& # 39; data title & # 39;), dataSef = $ this.attr (& # 39; data sef & # 39;);
switch (dataShareType) { case & # 39; facebook & # 39 ;: fb.u off ({ method: & # 39; share & # 39; href: dataSef, }, function (response) { if (answer &&! response.error_message) { updatehit (); } });
break;
case & # 39; twitter & # 39 ;: shareWindow (& # 39; https: //twitter.com/intent/tweet? via = webtkno & text = & # 39; + encodeURIComponent (dataTitle) + & # 39;% E2% 96% B6 & + 39; + encodeURIComponent (dataSef )); updatehit (); break;
case & # 39; gplus & # 39 ;: shareWindow (& # 39; https: //plus.google.com/share? url = & # 39; + encodeURIComponent (dataSef)); updatehit (); break;
case & # 39; mail & # 39 ;: window.location.href = & # 39; mailto:? subject = & # 39; + encodeURIComponent (dataTitle) + & # 39; & body = & # 39; + encodeURIComponent (dataSef); // updatehit (); break;
case & # 39; whatsapp & # 39 ;: window.location.href = & # 39; whatsapp: // send? text = & # 39; + encodeURIComponent (dataTitle) + & # 39;% E2% 96% B6 & # 39; + encodeURIComponent (dataSef); updatehit (); break; }
function shareWindow (url) { window.open (url, "_blank", "toolbar = yes, scrollbars = yes, resizable = yes, top = 500, left = 500, width = 400, height = 400"); }
function updateHit () { $ .Ajax ({ type: "POST", url: dataPostUrl, data: {contentId: dataId, contentType: dataType, shareType: dataShareType}, success: function (data) {
if ($ (& # 39;. video showcase & # 39;). length.> 0) { var $ container = $ (& # 39; video showcase & # 39;); } otherwise if ($ (& # 39; article[data-id="' + dataId + '"]& # 39;). length> 0) { was $ container = $ (& # 39; article[data-id="' + dataId + '"]& # 39;); } otherwise if ($ (&. 39; .wt-share item[data-id="' + dataId + '"]& # 39;). length> 0) { var $ container = $ (& # 39; .wt-share item[data-id="' + dataId + '"]& # 39;); } or else { $ container = zero; }
// var $ container = dataType == & # 39; video & # 39 ;? $ (& # 39;. Video showcase & # 39;): $ (& # 39; article[data-id="' + dataId + '"]& # 39;);
if ($ container! = null && $ container.length> 0) { was $ badged = $ container.find (& # 39; .wt-share badge - & # 39; + dataShareType);
find $ headerCount = $ (& # 39; content header & # 39;). find (& # 39; .wt-share-count & # 39;), $ containerCount = $ container.find (& # 39; .wt-share-count & # 39;), value = parseInt ($ containerCount.html ()) + 1;
$ container.data (& # 39; share & # 39; value); //$containercount.html(valu A);
if ($ headerCount.length> 0) { //$headercount.html(valu A); }
if ($ badged.length> 0 && (dataShareType == & # 39; facebook & # 39; || dataShareType == & # 39; twitter & # 39;)) { if ($ badged.hasClass (& # 39; is visible & # 39;)) { //$badged.html(dat A); } or else { //$badged.addclass('is-visible').html(dat A); } } }
} }); } } }, & # 39; .wt-share button & # 39;) });
Source link