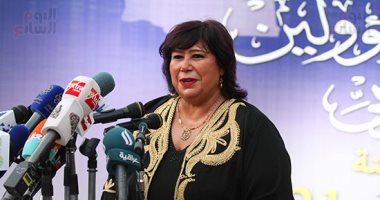 Tomorrow, the activities of the third session of the Luxor Festival of Arab Poetry, organized by Poetry House in Luxor, will be held under the protection of Dr. Inas Abdel Dayem, Egyptian Culture Minister and Sheikh Dr. Sultan bin Mohammed Al Qasimi, ruler of Sharjah.
The festival will be held from November 15th to 17th 2018, in the presence of the Minister of Culture, Abdullah Al Owais, Head of the Sharjah Cultural Department, Mohammed Al Qaseer, Head of Culture Department at Sharjah Culture Department, Mohammed Al Barriqa Poet, Poetia's House in Sharjah and a delegation from the Sharjah Culture Department. Abdul Muttalib guest celebration, and then attend the poetry dinner presented by poet Mohammed Al-Mutaim poets Ahmed Hafez, Roda Shahin, Abdel Moneim Camel, Mahmoud Race, Mahmoud Sharif.
Following is the "seventh day" details of the sessions and events at the Arab Poetry Festival: –
1. In the evening, the artistic exhibition "Abjad opened between sadness and color"
2. The exhibition will be shared by 37 artists of art, letters, Arabic calligraphy and 40 paintings
3. The poet Ashraf Albulaki presents the poets "Hassan Taleb – Hussein Khalafallah – Abdel Qader El Hosny – Mohamed Tayel – Hagar Omar – Nora Osman – Wissam Deraz" in poetry the evening scheduled to start at 19:00 followed by a section by the artist Tamer Jaber
4. The Poetic Chamber organizes on Friday night at 19:00 the third poetry dinner, where the poets "Al-Dawa Mohammed Al-Dawi, Hanan Shaheen, Shireen Al-Adawi, Amr Al-Sheikh, Taha Al-Sayyad, Mustafa Rajab,
5. The activities of poetry will be presented by poet Dr Mustafa Abu Al-Shawarab, followed by a technical section from the Egyptian cultural heritage of Abdullah Jawhar's Egyptian Heritage.
6. On Saturday at 10:00 pm, the monetary session begins in the work of young poet, presented by Prof.dr. Mohamed Abou El Fadl Badran
7. Dr. Tamir Fayez, Dr. Hafez El Maghraby, Dr. Hossam Gail, Dr. Medhat Safwat, Dr. Hoyada Saleh,
8. The poetry of the Egyptian poets Sinai, Matrouh and Fayoum poets are organized by "Hamdan Al Tarabin" – Salama Abu Noura – Sulaiman Abu Daqqa – Alaa Al Ramhi – Abdel Qader Tarif "presented by Poet Khaled Helmy Eltaher
9. The closing ceremony will be held at the Luxor Temple courtyard at an open stage from 7 pm in the evening poetry poets "Nubian Abdul Radi – Jamal Al-Shimi – Izzat Al-Tiri – Moon Sabry Al-Jassem – Mohammad Gad Mawla – Yousef Abed" Evening presented to poet Ahmed Jamal Madani
10. A folkloric view of the Luxembourgian ensemble ensemble will be presented and participation and closing evidence will be distributed to the festival
Source link