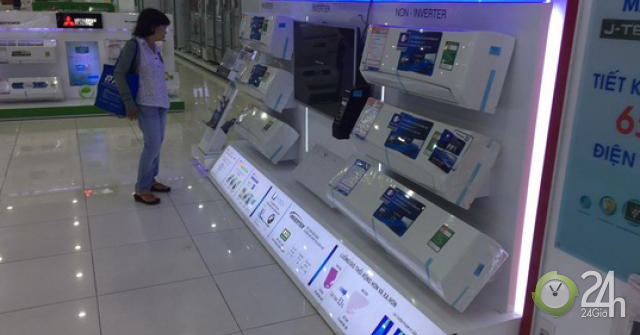 Sunday 17 March 2019 17:30 (GMT + 7)
In the middle of the hot season, the purchasing power of refrigeration products in HCMC is still quite weak.
The weather in Ho Chi Minh City and the provinces and south of the moon's New Year has been continuously warm and sunny. But not so that the market for anti-heat products, especially air conditioning and electric fans of all kinds, came alive.
Radiant promotion
Since early March, supermarkets and electronics centers in Ho Chi Minh City have launched campaigns for the hot season. The main products for hot season are air-conditioning, air-conditioning, electric fan, refrigerator. In addition, there are some household items such as blender, juicer.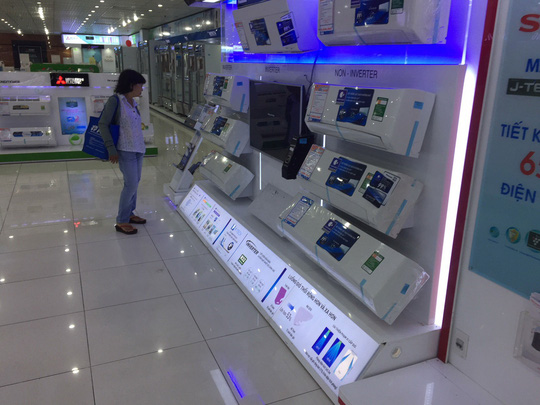 The area selling air conditioners in the electronics business is empty, even though it is in the hot season.
Electronics supermarket system Nguyen Kim has a promotion package of materials, 100% installation with a price of 1 million VND for customers to buy air conditioning; At the same time, 1 year warranty. Mr. Nguyen Viet Tiep, Marketing Director Nguyen Kim, said he will continue to run a new promotion program next week. Therefore, customers buy air conditioning if they buy another, they get a 10% discount. Buyers also receive a 0% installment, which means they do not have to pay in advance but only pay monthly within 9 months. In addition, customers buy air conditioning, if you buy an air conditioner, electric fan, blender, juicer get 30% discount.
Similarly, Cho Lon's electronic supermarket also offers preferential programs such as free supplies and installation for customers to purchase air conditioning. Many air conditioning units are discounted from 10% -20%, also given beer … Or Thien Hoa electronics center has a program "Cooling team" with the announcement that all employees in Thien Hoa serve the customers with quality. The best quality, while strong discounts from 30% -40%, even 50% with many air conditioners, refrigerators …. There are especially energy-saving air conditioning (inverter) with prices sold only VND 5 million / set of type 1 HP.
Most electronics retailers are committed to delivering air-conditioning to the home after one hour and installing it right in the inner city. Especially suburban areas from 2-4 hours will be delivered to the site.
Retailers said many hot season incentive programs will be held continuously until the end of May, rather than just launching a program over the past few years that is tedious for customers. Therefore, each program lasts only approx. one to two weeks, then switch to a new program more attractive.
Information from supermarkets, electronics centers in Ho Chi Minh City, because consumers choose the most energy-saving air conditioners. Therefore, the number of inverter air conditioners is up to 90%, with the price of 7-9 million VND / HP type 1 machine, falling from a few hundred thousand to over 1 million VND compared to last year. These high-end air conditioners are integrated with many features in air filtration, deodorization, germicidal and noise reduction.
In addition to air conditioning, consumers also choose air conditioning due to the use of low power and easy electrical power for easy movement. The price of this fan fell about 10% over last year. Currently, the sales price of this product ranges from 2 million VND to over 10 million VND / machine depending on capacity. This product comes from many sources, dominated by Chinese goods, some from Thailand and Vietnam. Meanwhile, the price of conventional electric fans rose from 5% -10% due to the increase in material prices such as copper, plastic and other accessories.
Low purchasing power
Although retailers implement a number of anti-hot article preference programs, the reporter says it is still not as active as in previous years. Especially in a large electronics store in district 1, Saturday morning (March 16), the number of visitors to the air-conditioned screen box and the refrigerator is rather sparse. For an hour (9-10 hours), only a few people will ask about prices and features, but only one buyer. Similarly, at a large electronics center in District 10 in the morning, a couple of people came to find out the prices of air conditioning, but saw no one to buy. While viewing area of ​​the air-conditioning fan, electric fan … almost few people stopped to see.
According to some people who are knowledgeable about the electronics market, not every hot season, the air conditioner, the electric valve, the refrigerator will sell well, but the purchasing power follows the temperature. If the weather is a little warmer than normal, purchasing power will only increase by 5%. Only when overheated, up to 38-40 degrees C, many people jumped to buy anti-heat items. Even "burning" items that increase local prices in some merchandise. But from the beginning of March to the present, the hot weather in Ho Chi Minh City and the provinces and cities in the south has been softened, so the purchasing power of refrigeration products is weak.
In addition, the majority of households that have purchased air conditioning in advance also affect purchasing power at present. Companies expect new anti-hot products to be marketed in the right season in April.
Don't dare to store much
Mr. Le Van Tan, owner of many refrigeration stores in Ho Chi Minh City, said that manufacturers and importers of refrigerated goods in previous years have not yet properly assessed market demand, causing huge losses. As in the hot season last year, businessmen expect to consume well, so prepare for the 10% -15% growth scenario for air conditioners and refrigerators. In reality, the weather is not as hot as expected, so the growth of these two items is only 5%. Therefore, this product source becomes superfluous, needs to lower prices and offer gifts continuously, but this time has not released the stock.
Therefore, in the warm season of the year, you dare to increase production or import goods as much as in previous years. Instead, they closely monitor the weather conditions to prepare suitable sources.