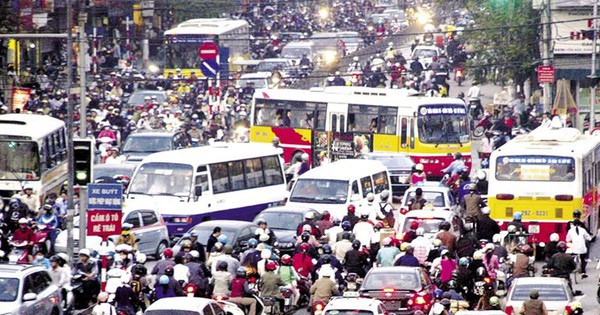 Prior to the news that Hanoi could ban motorcycles on two main roads leading into the city, Nguyen Trai and Le Van Luong, immediately had mixed opinions and violent arguments. However, most of the comments focused on the transport sector's solutions. In particular, are people concerned that public transport, including buses, can replace motorcycles? What means will people move with motorcycles?
Especially architect Ho Duy Diem, former vice-president of the town planning association. Since Nang has a relatively different "constitution". According to Diem, to find a solution to "do not let people walk the street", the traffic percentage will be over. At that time, it would be easy to ban motorcycles and private cars.
What do people on the street do?
Mr. Diem analyzed, traffic problems and congestion services in major cities in general and especially Hanoi and Ho Chi Minh City are very serious. To make a possible plan or solution, it is necessary to "catch the right disease" before removing it.
There must be specific studies and statistics: "What do people on the street do? Where do they go every day? Why do so much travel so much on the city road? Why do people in Vietnam use personal funds? … if there is a way to keep people out of the street, then the traffic problems run out! ".
Diem said that Vietnam has built a Vietnamese standard of basic construction and urban planning since the early 1960s. In particular, the important provisions are "service radio". But it seems that no city has so far searched correctly.
In addition to the detailed planning of the 1/500 card, every residential and urban area must calculate the population to meet basic standards such as: Must ensure 100m2 / head. 15m2 traffic / person; 15m2 trees / person … From there, a specific service radius can be used.
For example, pre-school children do not send 500m, care for nursing, send cars, motorcycles … no more than 500m; primary school, school, household shopping, medical facilities … no more than 1,000m. Going to another public place waiting for the bus is no more than 1,000m or no more than 10 minutes. Similarly, larger public social activities operate everyday, the service radius is greater in the proportion. If the right "service radius" is used for planning, building and organizing populations, there is no way people should get out on the road to get traffic jams and traffic jams.
The urban population rose both naturally and mechanically, while the authorities did not use the "UN standards" in construction, public areas, green trees, and even changes. Initial planning to increase land and semi-recovered. On the one hand, salmon management of the dwelling leads to overloading of social and transport services.
City centers "Lay out" special schools, selected classrooms, school locations so they can race to bring their children to school for more people … Medical centers have standards, quality varies greatly. It is this "disease" that has made people pour more paths to bring their children and relatives to high quality social services. How to Avoid Cars.
Need to rectify the plan
Architect Ho Duy Diem said: "I see the direction of Ha Dong – Ha Noi morning traffic load, and the opposite direction changes in the afternoon. Because even though there are several high-rise buildings, new Ha Dong neighborhoods, Ha Tay and Hoa Lac … people also go into town to work, take their children to school and heal … if they do not guarantee their service radius on site ".
To solve the traffic load problem in Hanoi, it is not possible to rely solely on the government, the transport sector and the city. Hanoi, who must be responsible for the whole community. Need money, time, to relax people, supplement the mistakes of planning, construction and population layout. Add "service radio" rules as an ordinance that forces each city to use. In the near future, it is necessary to move universities, administrative bodies, ministries and branches out of the inner city … ".
Source link