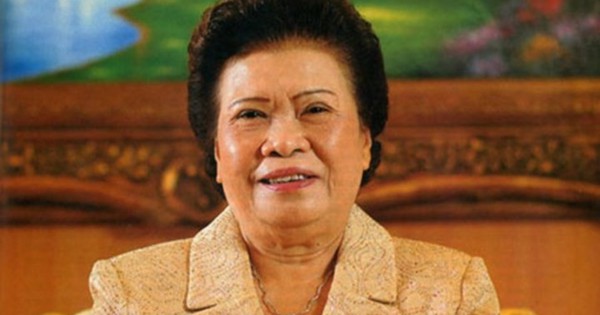 Last weekend in Ho Chi Minh City, Mr. Nguyen Chan (96 years), Men of Mrs. Tran Thi Huong (commonly known as Tu Huong, died May 13, 2017) is the founder of Nam A Bank and Hoan Group. Bridge held a press conference to announce information that rejects the son to occupy the bank.
According to the press release, Mr Nguyen Chan said that in mid-2016 Mrs Tu Huong was ill, so she gave her son Nguyen Quoc Toan (SN 1970) to manage the bank and Hoan Group. Demand, but property still belongs to his spouse.
Mr. Chan said: "Abuse of family confidence, with the interaction and upbringing of some individuals, his second son has occupied all his and his husband's assets, the estimated value is about VND 30,000 billion: These assets include: Shares issued by Nam A Bank, shares in companies in the Hoan Cau Group's system, investments in companies in the form of capital grants, purchase of shares ".
This is only information from one side. According to our research, based on the public information, it can be seen that the ownership structure and key positions of Hoan Cau Company since the end of 2016 have had many changes. change.
Hoan Cau Company Limited was first registered on January 1, 1993, which can be considered the center of business of Mrs Tu Huong's family.
Before a number of recent changes in ownership, according to business records, changed 21 times on October 22, 2012, Hoan Cau has chartered capital of $ 889 billion. VND.
At present, Hoan Cau had 3 capital contributors, Nguyen Chan (51.78%), Tran Thi Huong (38.21%) and Mr. Nguyen Quoc Toan (10%). At this point, the Director-General of Hoan Cau was Mr. Phan Dinh Tan.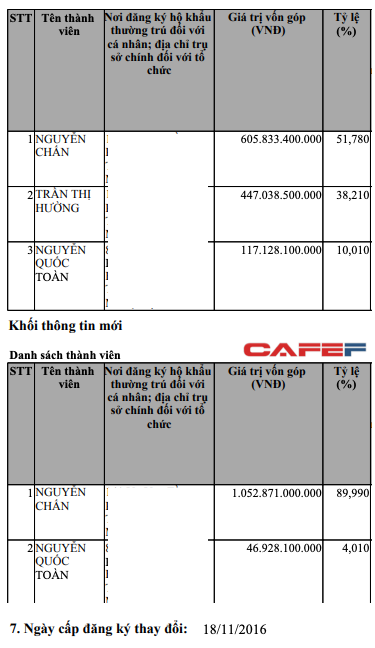 Huhong's capital was transferred to her husband from November 18, 2016
By November 18, 2016, when the charter capital of Hoan Cau was increased to $ 1,170 billion. CEO, the structure of Hoan Cau's ownership from the above course was very variable with Mr. Nguyen Chan Holding 89, 99% capital.
The remaining 10% of the shares belong to Mr. Nguyen Quoc Toan (4.01%) and Nguyen Quoc Cuong, Phan Dinh Tan and Nguyen Thi Thanh Van, each own 2%.
In December 2016, Nguyen Quoc Cuong held the position of chairman of the board of directors of members and director general. Previously, in July 2016, Mrs Nguyen Thi Xuan Thuy held the position of Director-General instead of Mr. Phan Dinh Tan.
On May 13, 2017, Mrs Tu Huong died and less than 2 weeks later, Phan Dinh Tan returned to Hoan Cau's chairman and director-general. Together with no longer the position of CEO, 2% of Nguyen Quoc Cuong's shares were also named Nguyen Thi Thanh Van.
By 11/2017, the major change for over 24 years changed by Hoan Caus's establishment, as the property structure had changed significantly: then the whole Chan, Mr. Toan and Mrs. Van was transferred to For a person, Mr. Duong Ten Dung.
At this point, Hoan Cau had 2 capital contributors, Mr. Duong Tien Dung (98%) and Phan Dinh Tan (2%).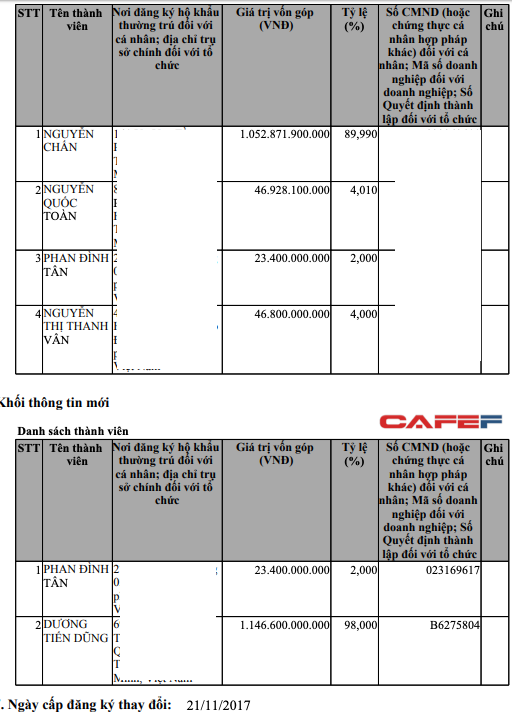 Since changing company registration on November 21, 2017, Mr. Chan no longer capital in Hoan Cau
So from that point on, members of Mrs Tu Huong's family no longer exist [trực tiếp] owns a central company that owns the family's heritage.
By 7/2018, the capital became Mr. Duong Tien Dung renamed Mr. Phan Dinh Tan. At present Mr. Tan 99% holder of Hoan Cau's eligible capital.
The remaining 1% is held by Mrs Nguyen Thi Lieu and transferred to Mrs Nguyen Ton Nu Nhu Hoang in 12/2018.
Mr. Phan Dinh Tan was born in 1954, which since the beginning is linked to Mrs Tu Huong's family in Hoan Cau and Nam A bank. Mr. Tan held General Manager of Hoan Cau most of the time since its establishment, with the exception of an interruption period. Currently, Mr. Tan also vice-chairman of Nam A Bank.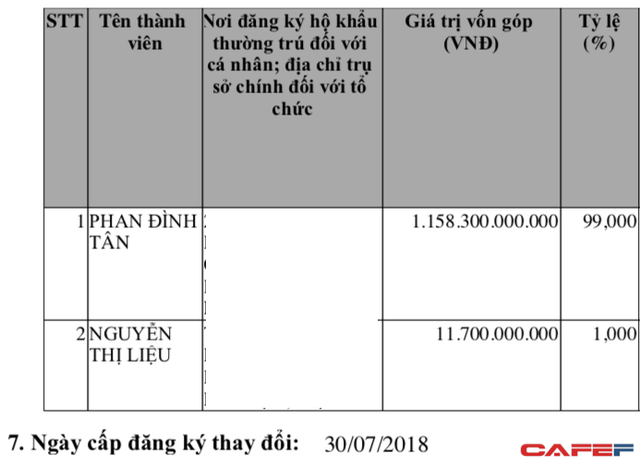 Mr. Phan Dinh Tan owns 99% of Globe from July 30, 2018
Source link