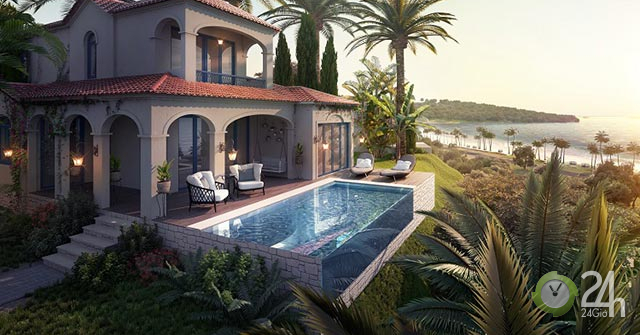 Monday 18 March 2019 16:00 (GMT + 7)
Phan Thiet Airport with a capital of 10,000 billion. VND has not stopped burning warmly and transforming Mui Ne into a new tourist paradise in the south. The landing of a billion-dollar project has broken the monotonous, monotonous past on the market and is also a magnet for investors.
Airport 10,000 billion. And "push" to make Mui Ne – Phan Thiet "Asian tourist paradise"
The Prime Minister has formally approved the Mui Ne National Tourism Development Master Plan. Under the plan, Mui Ne becomes the leading destination in the Asia-Pacific region until 2025, striving for 2030.
To meet this strategy, the Government will prioritize investments in Phan Thiet infrastructure. In particular, the Prime Minister has agreed to adjust the volume of Phan Thiet airport from more than 5,000 billion to over 10,000 billion. Turn this airport into one of the three main airports in Central Vietnam, just behind Cam Ranh and Da Nang airports. The planned capacity at the airport reaches 2 million passengers a year.
With heat from the airport, experts predict Phan Thiet – Mui Ne will soon become a new tourist paradise in the south, the leading destination for Asian and European tourists. And attract more northern customers with just over 1 hour flight.
According to statistics from the tourist industry in Binh Thuan, 2018, Mui Ne – Phan Thiet received over 6 million visitors located in the 3 most attractive coastal towns in Vietnam along with Nha Trang and Da Nang. The government's plan has "commissioned" Mui Ne to welcome around 9 million visitors by 2025, 14 million visitors by 2030.
Such great potential, but so far, luxury projects in Phan Thiet – Mui Ne have not met the needs of tourists and lost far from other places such as Nha Trang, Da Nang and Phu Quoc. Currently, Mui Ne has only approx. 3,000 4-5 star hotel rooms, a modest number compared to Khanh Hoa (19,000), Quang Ninh (about 6,000), Da Nang (17,500) …
Phan Thiet – Binh Thuan owns many scenic sites and unique culture
By using the apartment, a number of property giants were gathered here with the USD cash flow. After the airport, the motorway, several months to Mui Ne – Phan Thiet, there will be large-scale entertainment and urban tourism models with marine parks, water parks, 18 hole golf courses and huge zoo. The Giants and entertaining paradise are very lively.
The statistics show that there will be 18 super projects in 2019 with a total investment of nearly $ 3 billion flowing into Phan Thiet. Outstanding Novaland – the brightest property developer will introduce the NovaWorld Phan Thiet project with a larger scale near 1000 hectares or NovaHills Mui Ne Resort & Villas with the scale of 600 villas in Mui Ne has attracted customers. Fast receptor.
Only from 2 billion. – Investment in ocean view hill villa makes super customers
Mid-range property hunting is an underground wave sweeping out resort project. Leaving the city to live in the hometown and the movement of middle-class Vietnamese families has made it necessary to own "the second house" – a place with a large, airy space, the coastal urban population very high.
With the distinctive beauty of Spanish-Mediterranean architecture, 600 villas at NovaHills Mui Ne Resort & Villas have the position of "like paint, direction of water". The project is equipped with modern facilities such as large conference center, 3-storey swimming pool, spa and health center, private beach area and ocean sports, outdoor barbecue garden, supermarket facilities, playground, large flower fields, sea observation towers over 100m …
Hill villa with impressive sea views over NovaHills Mui Ne
In addition, the project has a hillside residential area designed with a continuous swimming pool that forms two 250m long swimming pools, curved like a river behind the villa.
Long pool villa – "strange" product at NovaHills Mui Ne
As an international student with 6 years of experience in European life, Vuong Tuan Anh loves deeply the decisive style of Spanish architecture. It is a demure, liberal beauty but very elegant. The securities firm analyst said: "I always thought I should have another house close to the beach and let my family rest when I had the opportunity. Mui Ne NovaHills attracts me at first glance. Ocean view villas cost only 7 billion VND, investment of 2 billion VND is a very appropriate financial solution within my income range ", Shared Tuan Anh.
Ms. Hoai Tam (District 2, Ho Chi Minh City) shared: "I am an overseas Vietnamese who does not have much time so I choose real estate as an investment channel to keep assets. Many years of investment in Novaland's good profitability projects, so I fully believe in investing in this 300m3 NovaHills Mui villa Ne this time ".
With the expected price of just over DKK 7 billion. VND / single villa, you hand over fully furnished furniture and attractive investment programs: investing 2 billion. For 3 years and dividing profits by 85% – 15%, … the last apartments in Mui Ne NovaHills are quickly absorbed and assessed by domestic and foreign investors to suit the needs of holiday and long-term investment.
Readers interested in the project can contact NovaHills Mui Ne Resort & Villas model visit at 26 Mai Chi Tho, An Phu Ward, District 2, Ho Chi Minh City. Hotline: 0938221226